At the northern tip of Florida's famous A1A highway sit two of the Sunshine State's most visited cities: Jacksonville and St. Augustine.
Both of these coastal cities have to-die-for ocean views and kid-friendly activities, yet each also has their own local charm and culture — offering you so much more than the average beach trip.
Given they're less than an hour from one another, they're also the perfect pairing for an unforgettable Florida vacation. Start your trip by choosing from a wide variety of vacation rentals in Jacksonville and charming homes in St. Augustine — then plot out your adventure with these top things to do.
The Best Beach Activities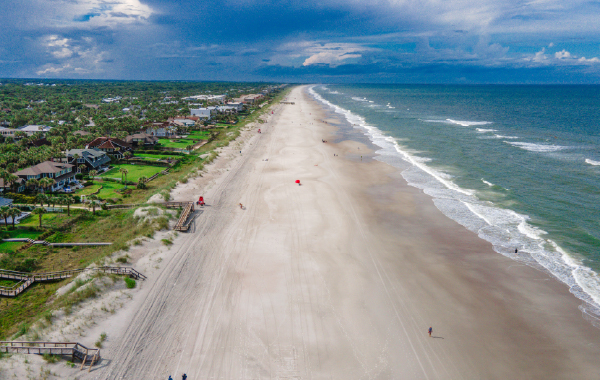 The city of Jacksonville surrounds the St. Johns River, but its beaches are just a few miles away and are known for lively beach bars and seafood restaurants. Meanwhile, St. Augustine's beaches have a more quaint, low-key vibe with plenty of fishing piers and nature trails to explore.
Whether it's a tiki bar or sand dunes sparking your interest (or both!), these are the top beach activities that'll help you fully embrace Florida's Northeast coast.
1. Enjoy a Day in the Sand at Jacksonville Beach
Known locally as "Jax Beach," Jacksonville Beach is one of the best places for a classic day of fun in the sun. Here you can relax by the water, walk on the Jacksonville Beach Fishing Pier, and experience some coastal cuisine at one of the many seafood restaurants. (Dockside Seafood Restaurant has some of the best local dishes.)
2. Explore the State Parks and Preserves at Amelia Island
For both history buffs and wildlife lovers, Amelia Island is a quieter, more preserved coastal community north of Jacksonville Beach. The island is home to two state parks: Amelia Island State Park, where you can ride horseback on the beach and admire the protected wildlife, and Fort Clinch State Park, where you can see a 19th-century fort and play in the sand dunes.
While the area is known for its natural preserves and history, it also offers luxury hotels, golf courses, and pristine waters — so there's something for everyone craving a truly custom experience.
3. Relax Near St. Augustine at Crescent Beach or Anastasia State Park
Crescent Beach, named for its natural coastline shape, is known for hard-packed sand that's ideal for beach bike rides, frisbee, and volleyball. Here you can enjoy a vibrant atmosphere and wide sands with plenty of room to play.
Anastasia State Park, on the other hand, is perfect for bird-watching or observing wildlife from a canoe or kayak. Similar to Fort Clinch State Park, it also has unspoiled beaches, tidal marshes, and ancient sand dunes to explore.
The Best Kid-Friendly Activities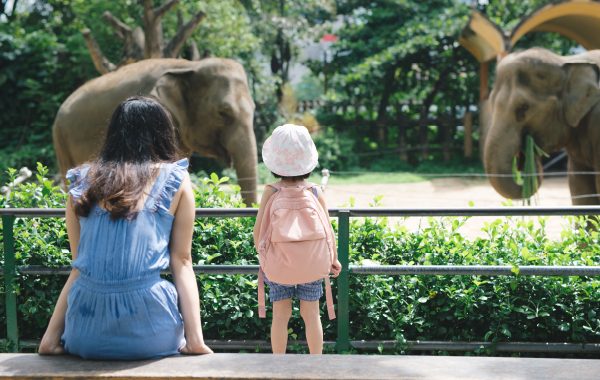 When you're ready for a break from the beach, head into town for some family fun. Both St. Augustine and Jacksonville offer a wide range of activities that will have the kids singing and jumping in delight.
1. Immerse Yourself in Nature at the Jacksonville Zoo and Gardens
If your kids are true animal lovers, Jacksonville Zoo is where the kids can learn about a range of animals, from an African bullfrog to a Malayan tiger. Plant fans can also experience a first-of-its-kind botanical garden that's integrated among the animal exhibits.
Your ticket purchase goes to a good cause, too: the Jacksonville Zoo is one of only seven U.S. zoos with an animal wellness team, and they donate a portion of every ticket sold to animal conservation efforts.
2. Observe Gators and More at an Alligator Farm Zoological Park
Reptiles, fossils, and birds, oh my! Claiming to be the only place in the world to see every living species of crocodilian, the St. Augustine Alligator Farm offers unique sightseeing of gators, along with a range of other species (think exotic birds and native snakes).
The park also has memorable wildlife shows and attractions, like the Crocodile Crossing — the kids won't forget this zipline that flies over seven acres of live alligators, tropical birds, and red-ruffed lemurs.
3. Hop on the Old Town Trolley
You can't go to St. Augustine's old town without seeing green and orange trolleys everywhere — and our bet is the kids will want to be on one. The Old Town Trolley of St. Augustine has been a traveler favorite for years, as it offers a convenient and educational way to discover the area's unique architecture and history.
If you choose to ride around, you can hop on and off as often as you'd like — and get fun educational tidbits from a tour guide along the way.
The Best Cultural Activities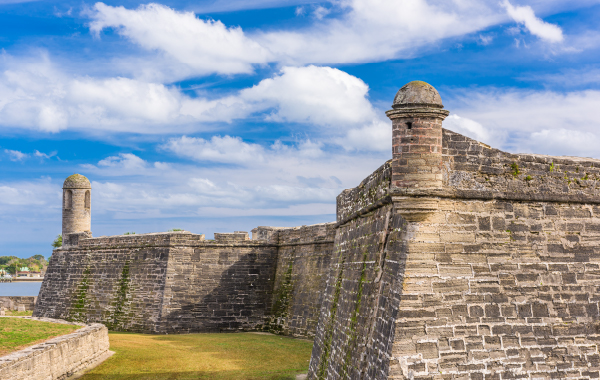 Founded in 1565, St. Augustine is the oldest continuously-occupied settlement in the United States. Its old town's rich history, unique architecture, and melting pot of cultural influences have inspired these special experiences you won't want to pass up.
1. Take a Tour of the Castillo de San Marcos Fort
Built by the Spanish to defend Florida and the Atlantic trade route, the Castillo de San Marcos National Monument has a way of making you feel like you're on the set of Pirates of the Caribbean. (Just take a look at the old cannons to really set the scene.) The fort itself is open for visitors, providing a glimpse into the oldest masonry fort in the U.S.
2. Admire Art at the Lightner Museum
No other building in town speaks to "America's oldest city" like the Lightner Museum, which is in the former Hotel Alcaza (a Gilded Age resort hotel commissioned by railroad builder Henry Flagler). While the exterior architecture alone is worth a visit, inside there's an abundance of art, architecture, history, and design worth seeing.
3. Climb the St. Augustine Lighthouse
The St. Augustine Lighthouse and Maritime Museum is a nonprofit that helps preserve the building and supports education about the port area. When visiting, you can climb the 219 spiraling steps of the lighthouse tower, view over five exhibits housed in the surrounding historic structures, or let the kids burn off energy at the shipyard play area. Whatever you do, be sure not to miss the stunning views!
Explore More of St. Augustine and Jacksonville
Enjoying the beaches, wildlife, and culture is just the beginning of things to do in St. Augustine and Jacksonville. To learn more about visiting these neighboring cities, check out the Visit St. Augustine and Visit Jacksonville websites.
Rest Easy with Evolve
The moment you book your vacation, you should start looking forward to your trip — not worrying about the little details. When you choose Evolve for your St. Augustine and Jacksonville vacation, you can feel confident that the home you book will live up to our standards.
Every Evolve vacation rental comes with a team of hospitality experts, and we're here to make your stay comfortable 24/7. To help you feel even more confident, we created our Rest Easy Promise: if a stay doesn't match our standards, we'll make it right.