Home to the land of Mickey Mouse and Disney World, world-class golf courses, fine dining, and shopping, Orlando attracts a wide variety of travelers from across the country and around the world — making record-breaking tourism numbers par for the course. Annual visitors reached a high of 75 million in 2018, accounting for nearly 60% of total visitors to the entire state of Florida.
With so much to see and explore, there's no doubt this Central Florida destination is a national tourism hub that's helped fuel a booming vacation rental industry.
To help you understand the scope of investment opportunities within this in-demand market, we created a free, downloadable Orlando vacation rental investment market analysis ideal for prospective buyers.
Inside our free report you'll find:
Rental income potential by property size
Top performing property types
Vacation rental inventory by property size
Occupancy rate by month
Average daily rate by property size and season
Download Our Complete Orlando Vacation Rental Investment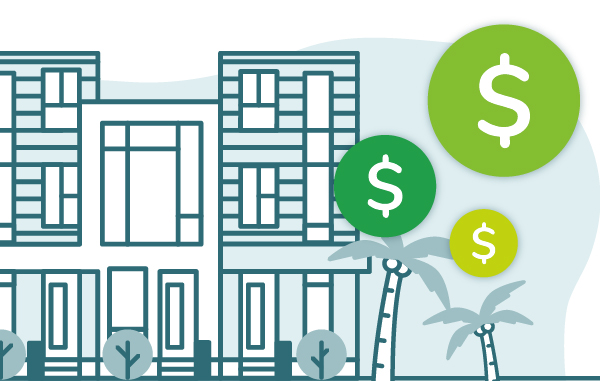 Why the Orlando Area Is a Great Place to Own Vacation Rental Property
With its year-round temperate climate (it is the Sunshine State, after all) and staggering array of activities and attractions, the Orlando area is a popular destination for travelers throughout the year. And as WalletHub's Best City for Recreation for 2021, it offers consistent booking opportunities and minimal slow periods for vacation property owners.
Of course, amusement parks like Disney's Magic Kingdom are a big draw for families. Given they're equipped to welcome tens of millions of guests annually, there's high demand for affordable, spacious, and convenient accommodations in the area, be it in Orlando itself or nearby Davenport and Kissimmee. Think about it: ticket prices are steep enough, and since an expensive resort stay can be cost-prohibitive for many families, vacation rentals have gained popularity as budget-friendly alternatives.
Speaking of affordability, homebuyers can expect relatively economical prices for property in the area, with Zillow prices ranging from the mid-$200,000s in Kissimmee to around $300,000 in Orlando for an average four-bedroom home.
This up-front investment can pay off quickly once you start welcoming guests. According to our data, Orlando area vacation rentals are, on average, booked solid 41% of the year. In March, that can skyrocket to a 90% occupancy rate. Translation: a consistently-booked calendar can very easily mean more money in your pocket.
How Much Money Can You Earn with an Orlando Area Vacation Rental?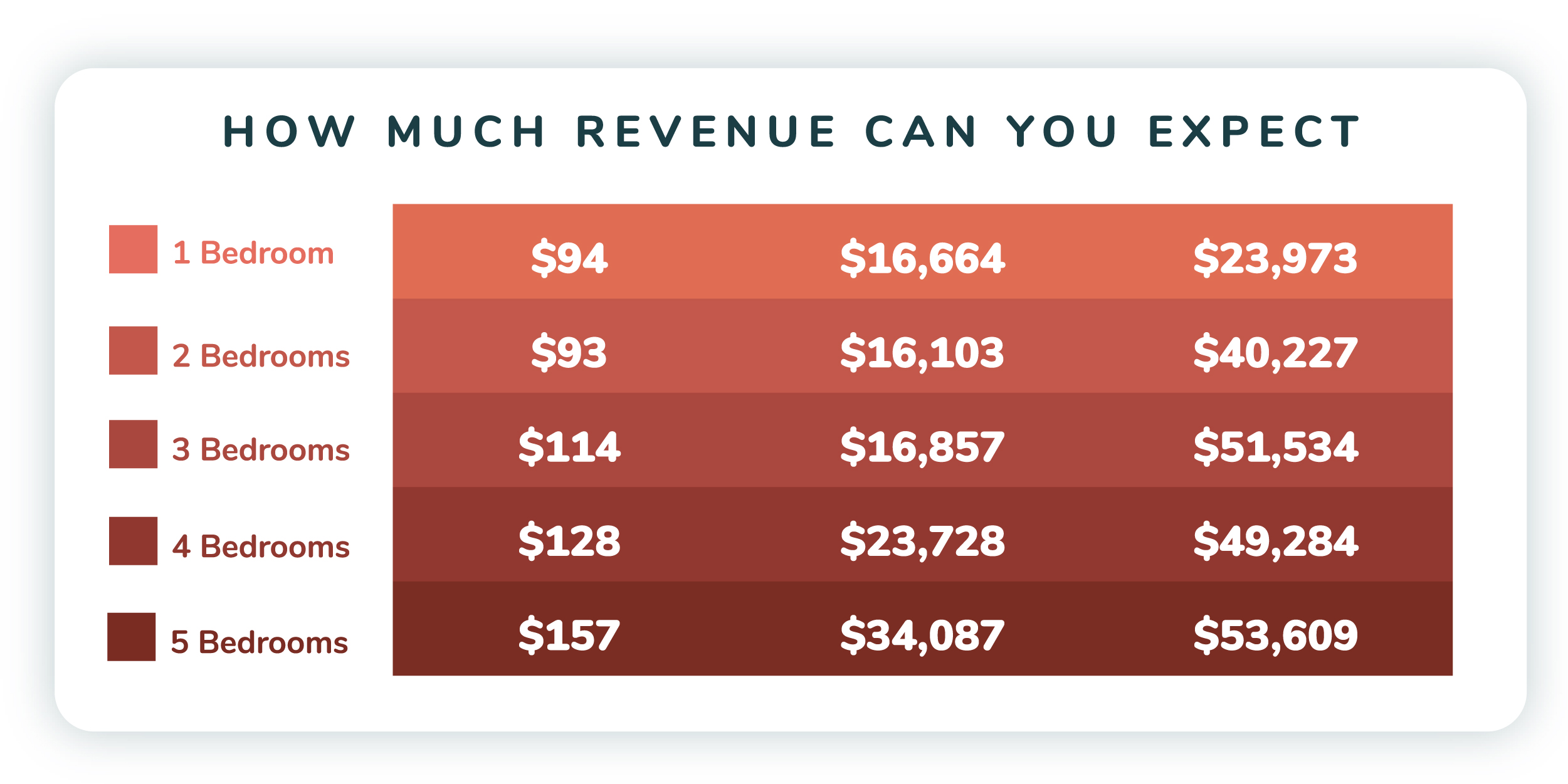 As tourists steadily flock to Orlando's one-of-a-kind entertainment opportunities and gorgeous setting, homeowners and investors in the area have the potential to earn a sizable income with vacation rental. To maximize your earnings and gauge how valuable your home could be in the market, there are a number of notable factors to consider.
Property Size
Our Real Estate Services (RES) team says the most bookable Orlando homes have the space to accommodate larger groups, so bigger is better. Per our report, five-bedroom homes earn the most on average (the top 25% of performers make $53,600 annually).

But if that feels a little too large and in charge for your investment goals, don't fret: that home size only represents 13% of the Orlando area's inventory. Three-bedroom homes are also in high demand among travelers who book with Evolve, representing 29% of our Orlando area's inventory and pulling in an average of $51,524 annually. This not only makes them the second-highest income earners behind five-bedroom homes, but it also means they could be easier to come by when looking at properties for sale without sacrificing profit potential.
Property Location
Disney World is the biggest draw to the area, so catering to Mouseketeers should be your top priority. Our RES team suggests focusing on properties within five to 10 miles of Disney World, which is optimal for traveling to and from the park. Since families are still looking to enjoy their vacation home base without missing out on Disney magic, vacation rental-friendly communities with sought-after amenities are worth looking into, too.
Property Amenities
The Orlando area is one of the most saturated vacation rental markets in the world — not just the country — so the more you can cater to Disney-bound families with children or large multi-generation reunions, the better shot you'll have at winning bookings over your competition.
With multi-generational groups traveling together, you should provide a blend of offerings to please both kids and adults. Our product marketing team suggests maximizing your property's space (and your profits) by offering family-friendly amenities like bunk beds, sleeper sofas, and cribs — a key factor in 90% of our top-grossing homes in the area.
It's also important to remember Florida is consistently hot, so keeping everyone cool with an outdoor pool and central air conditioning is another necessity. Stocking your home with a wide range of board games and equipping family rooms with smart TVs, streaming services like Disney+, and strong internet connection for both work and play can help you nab those sought-after bookings.
Of course, traveling with kids or in larger groups can be a lot of work, so make things easy for your guests by offering self check-in, providing a welcome book with recommendations for nearby restaurants and activities, and stocking your home with dishware, kitchen appliances, toiletries, and cleaning supplies. Our product marketing team says adding these amenities can increase your profits and benefit your bottom line.
Download Our Full Orlando, FL Vacation Rental Investment Market Analysis
While the Orlando-area market is highly competitive, homeowners who provide the right accommodations to their vacation rental guests can thrive in this recreational paradise. Whether you're looking to invest in a new property or optimize your current home for success, download our free Orlando Vacation Rental Investment Market Analysis today.
Inside there's an array of helpful insights, including:
Average daily rate by property size
Average days booked in advance
Average length of stay
High and low seasons in Orlando
Remember, it doesn't take a magic wand to own a successful vacation rental. Discover the details that matter and use them to build a smarter, more lucrative investment.