Keeping an up-to-date vacation rental inventory is one of the most important operational tasks for an owner.
Why?
While your responsibilities are vast and varied — there's everything from stocking your rental and standardizing a cleaning process to collecting five-star guest reviews — keeping tabs on what's in your home is critical to making sure all of those other tasks are carried out successfully.
The great news: taking inventory doesn't need to be daunting. Our free, easy-to-use vacation rental inventory checklist helps you take stock of important household items in every room.
Inside you'll find recommended essentials that can help you deliver on seamless guest experiences, plus free space for documenting anything additional that's specific to your home. Consider it a foundational step in enhancing your vacation rental performance.
Download Our Vacation Rental Inventory Checklist
What Is a Vacation Rental Inventory Checklist?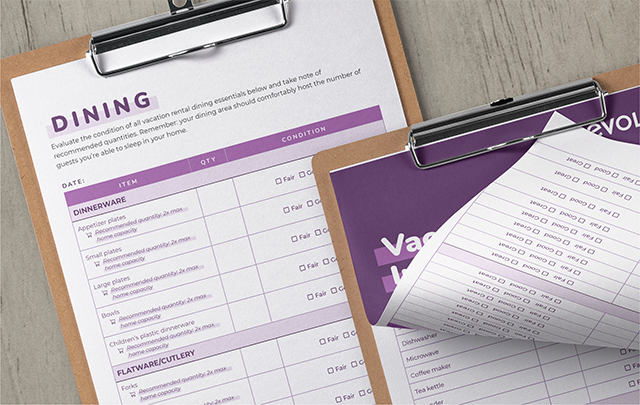 Simply put, a vacation rental inventory checklist is a resource used to document important items in your home at any given time. It allows you to take stock of what you have, what you're running low on, and what you need to buy or replace.
An inventory checklist should cover every room in your house, and should make it easy to notate anything from pantry items to larger pieces of furniture. There should also be space to detail the quantity and condition of each documented item (think: six coffee mugs in fair condition).
From there, just how in-depth your inventory gets is up to you. You can write down every last trinket in your home if it provides peace of mind, or you can choose to only cover the supplies, amenities, and decor that contribute to your overall guest experience. Either way, you'll have a robust frame of reference for maintaining a top-tier environment.
While you can fill out a fresh checklist as often as you'd like, our experts say it's best to do a full inventory at the same time you do a bi-annual deep clean and maintenance inspection. Quick spot checks for dwindling supplies can happen more frequently to keep up with guest stays.
Why Is a Vacation Rental Inventory Checklist Important?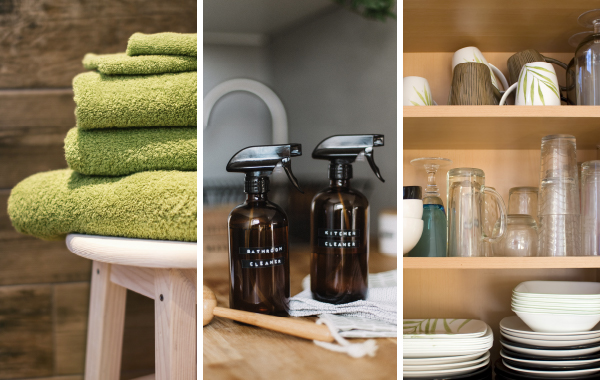 Keeping an accurate household inventory is key to smooth business operations, and having a checklist makes it easy to do a thorough job. It can also help:
1. Deliver Five-Star Guest Experiences
A list of existing items is the first step in providing for your guests. It exposes gaps in your supply of staples, and creates a baseline for upgrading amenities that help your home stand out to travelers.
It can also make it easy to answer inquiries from eager vacationers. If a potential guest wants to know whether you have a hair dryer in the primary bedroom, for example, you can quickly scan your checklist and provide a fast and accurate confirmation. And if an item of interest isn't available, you'll spend less time digging for an answer and more time finding a fix before those guests arrive.
2. Streamline Collaboration with On-Site Teams
Having an inventory checklist for cleaning crews and other maintenance professionals gives them a great reference point for work they need to complete. Housekeepers can make sure items are returned to their designated locations. Repair staff called in to fix the dishwasher can track what its condition was prior to the request. And your pre-organized checklist can also help familiarize new team members with your home and ensure consistency across the board.
3. Provide Reliable Documentation
With guests and crews filtering in and out of your home, keeping inventory establishes a system of checks and balances to track items of value and their condition. It's hard enough for you to walk through your property and confirm everything is where and how it should be when going off memory alone. It only becomes more difficult if you're a remote owner who can't regularly pop in and assess. So having your inventory checklist up to date and handy eliminates the what if, creating peace of mind in the process.
Plus, in the rare event that something does go missing or appears damaged, having clear documentation can help with filing an insurance claim. Our Partner Development team says supplementing with photos of valuable items (taken every six months as part of your full inventory update) can also help resolve issues faster.
Get Organized with Our Free Vacation Rental Inventory Checklist
Evolve believes every component of vacation rental management should be streamlined to help make life easy. That's why we created our vacation rental inventory checklist, giving you an easy-to-use, expert resource designed to help you take stock of what you own (and need!) for stress-free success.
Inside you'll find:
A room-by-room breakdown of essential vacation rental items
Recommended quantities of items for guest satisfaction
Free, templatized space for logging individual items in every room
Organized fields for noting details like condition and exact location
Additional pages to suit the layout and special areas in your home
Keeping a home inventory is only the start of what you need to run a successful vacation rental. Try our cleaning checklists for even more process organization, learn how dynamic revenue management can transform your booking volume, and see what little touches you can add to earn five-star reviews from your guests.
We're here to help you earn more while stressing less, and are confident our professional insights and guidance can help your home shine.