Of all the travel trends for vacation rental owners to pay attention to, sustainable tourism may be one of the biggest. Why? A recent global study of over 29,000 travelers revealed 81% of participants plan to stay in a sustainable accommodation at least once in 2022, and 73% are more likely to book a property if it has sustainability practices in place. 
Finding ways to make your vacation home more environmentally-friendly meets these traveler demands, opening up a window of opportunity to capture extra income and five-star reviews. And while it might feel like a steep hill to climb — particularly for vacation rental owners who don't live nearby — it's actually not as complicated as it all may seem.
There are a bunch of changes you can make that not only reduce your carbon footprint, but also help your property stand apart from its competition, lower expenses, and potentially make more money in the long run.
Whether you're looking for easy ways to build more sustainable practices at your vacation rental, or you're ready to back bigger conservation projects with long-term financial benefits, below are a range of ideas for making your home more eco-friendly — and the important cost-benefit analysis of tackling each.
Focus on Water Conservation
Fun fact: according to the Environmental Protection Agency (EPA), the average American household uses more than 300 gallons of water a day. In your vacation rental, it's likely that number goes up, as guests may not fully load the dishwasher before running a load. And they might trade a shower for a long soak in the tub because, well, it's vacation!
The good news? There are ways to conserve water that won't break the bank:
1. Invest in Low-Flow Faucets, Showerheads, and Aerators
Investing in low-flow faucets, showerheads, and aerators can save more than 2,700 gallons of water a year. (That's the equivalent of doing 88 loads of laundry, per the EPA.) Best part: they go for as little as $10 to $20 each, making a significant contribution to your sustainability efforts at a wallet-friendly price.
2. Replace Toilets with WaterSense-Labeled Models
If you're willing to spend a bit more upfront (typically between $150 and $300) these energy-efficient, EPA-backed toilets can save 13,000 gallons of water and $130 annually. Pair them with other bathroom upgrades (faucet, showerhead, aerator, and toilet) and you'll not only conserve a high amount of water, but the expense can pay for itself in a year.
3. Conduct a Water Audit
If you're not exactly sure where to invest in new products, a water audit can help you zero in on which part of your home could benefit the most from a revamp first. Since water usage can change with the seasons (and across the country), conducting one every three months can help point out opportunities for increased efficiency and plan out your eco-friendly-upgrades timeline.
Pump Up Your Paper Conservation
On average, the U.S. uses more than 70.6 million metric tons of paper a year. While that figure accounts for business, consumer, and at-home use, the bottom line is that there's a paper problem to solve. Lower the amount of paper your vacation rental uses by making a few simple-yet-effective operational changes.
4. Buy Recycled Paper Products
While slightly more expensive, 100% recycled paper towels and toilet paper are designed to reduce waste. Just be sure not to compromise on the quality of these amenities, as you want to keep the guest experience at a five-star level.
5. Take Business Operations Entirely Online
Leave paper checks and mailed invoices behind and take your booking and guest communications digital. Not only is it an easy eco-friendly change to make, but it's also a more seamless experience for on-the-go vacationers. (P.S. Evolve owners have this taken care of on their behalf. Our team communicates with travelers 24/7 to provide all necessary trip details, and every owner's account houses a digital calendar of bookings, automatic payment processing, and a consolidated view of earnings.)
Buy Energy-Efficient Products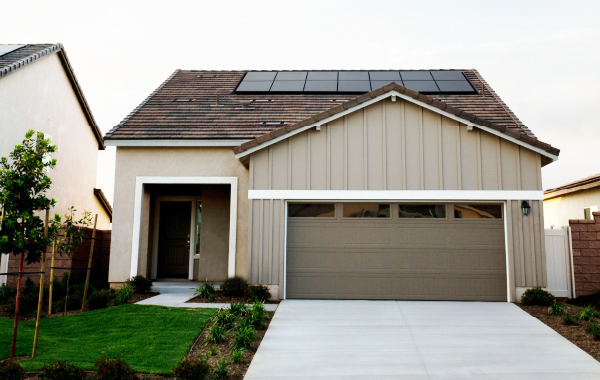 Switching to energy-efficient products makes heat and electricity consumption more sustainable, and can significantly reduce utility costs. Here's how to make smart swaps in your vacation rental.
6. Purchase ENERGY STAR-Certified Light Bulbs
CFLs or LEDs can reduce energy usage by 20 to 25% and last 15 to 25 times longer than incandescent bulbs. At just $2 to $5 a bulb, they pay for themselves in a short span of time.
7. Install Motion-Activated Sensors
These lights only turn on when a presence is detected, shutting off in the absence of movement. They're great for outdoor spaces and bedrooms, saving you a bit extra on energy bills and lowering the odds that guests will accidentally leave the lights on.
8. Invest in Smart Thermostats
A great way to keep heating and cooling costs low, many models connect to your smartphone so you can regulate remotely. (Some can even sense which rooms are occupied and adjust appropriately.) Smart thermostats also provide a great opportunity to impress guests on first impression: in hot summer months, you can make sure your home is cool upon arrival. When the cold weather sets in, you can warm up the home in time for a toasty reprieve.
9. Upgrade Appliances
While more costly upfront, opting for dishwashers, refrigerators, air conditioners, washing machines, and furnaces with the ENERGY STAR rating can have a significant impact on your home's long-term savings potential. These EPA-approved appliances use 10 to 50% less energy annually than their traditional counterparts, and can shave over $500 off your annual bills (a number that experts expect to climb above $800 in the next decade.)
10. Purchase Energy-Efficient Windows and Glass Doors
ENERGY STAR-certified options can cost anywhere from $270 to $800 per window, and can set you back about $350 per door on average. But these upgrades keep heat in during winter months and out during summer, cutting your energy bill in the long run. Data even suggests you can save as much as $583 a year by replacing single-pane windows, and up to $197 a year for double-pane.
When shopping for replacements, the EPA says to consider the U-factor (a window's ability to insulate) and the solar heat gain coefficient (the fraction of solar heat a glass pane transmits into your home), then adjust for your needs based on climate.
11. Invest in Solar Panels
This is by far the biggest splurge, but it's one with comparative long-term gains. The average person racks up over $3,000 in yearly energy costs, and installing solar panels can entirely eliminate this cost over the course of their lifetime. Since solar panels last about 25 years, owners using this powerful green technology can expect to generate free electricity for about 20 years, and might even turn a profit by selling electricity back to local power companies.
The great news: for both big kitchen appliance upgrades and solar panel installation, the government offers federal income tax credits to make initial costs more manageable. (Solar panels can cost up to $25,000 before these incentives are applied, but are about $12,000 out of pocket afterward, meaning you could recoup your investment in as little as four years.)
Extend Your Reach Into the Community
Nixing traditional water and energy solutions is only part of how to make your home more eco-friendly. You can also promote economic sustainability by hiring goods and service providers who share your green initiatives.
12. Source Decor From Sustainable Merchants
Provide unique touches to your vacation rental by purchasing locally-handmade furniture, decorations, and products to put in your welcome baskets. (You could even shout out sustainable businesses in a welcome book.) Eco-conscious travelers appreciate knowing that the makings of your home were thoughtfully curated, and it's always fun to provide easy opportunities for them to engage in local sustainability.
13. Hire Local Service Companies
When hiring cleaning and maintenance teams, keep environmentally-friendly practices and geographic distance in mind. Supporting smaller local businesses helps eliminate your contribution to the carbon footprints of larger corporate entities. Choosing local also addresses eco challenges on a more basic scale; the closer your service providers are to your home, the less impact they have on the environment in traveling to the property.
Make It Easy for Guests to Be Environmentally-Friendly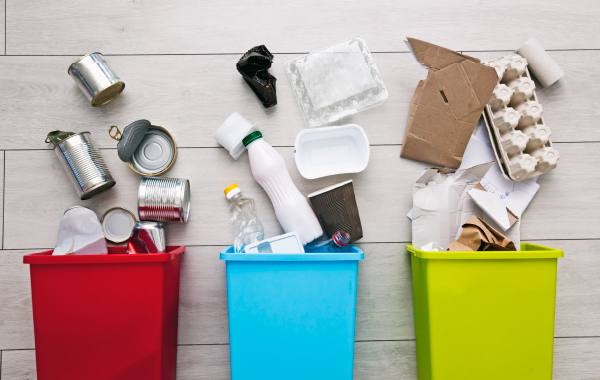 Cutting costs and saving money is a major benefit of making your home more sustainable, but you can also pay it forward (and satisfy rising sustainable tourism demands) by giving your guests easy ways to be green during their stays.
14. Put Out Easily-Marked Recycling Bins
Make them easy to spot and provide clear instructions for what gets recycled and what doesn't. Give guests info about if and when recycling is picked up locally, so they can participate without any hassle. (This is particularly useful if guests are staying long-term.)
15. Stock Reusable Water Bottles and Bags
For guests on the go, these items are much-appreciated green alternatives to disposable paper and plastic. Stock your kitchen cabinets, and be sure to task your cleaning teams with washing reusable water bottles and laundering totes in between guest stays.
16. Provide Bikes or Scooters
Whether guests need to make a quick run to the market or want to explore the neighborhood, having a few modes of non-motorized, emissions-free transportation is both environmentally-friendly and fun. They're convenient for couples, solo travelers, or families with kids.
17. Consider a Compost Bin
If you're interested in reducing food waste at your vacation property, you can set up a compost bin in the backyard and leave clear instructions for what guests can throw inside. There are even countertop options available to make composting an easy thing to do as guests cook or clean up after a meal.
18. Create a Backyard Garden
Gardens require a considerable time investment, but if you live close to your vacation rental and are up for the ongoing upkeep — or you're willing to make a gardener part of your service team — you can plant flowers to cut for fresh and fragrant decor. You could also grow fruits, vegetables, and herbs to fill your welcome baskets, or encourage guests to pick from it themselves. This gives them a unique at-home experience to help bring in those five-star reviews, not to mention a tasty way of staying green.
The Grass Is Greener with Evolve
Tackling eco-friendly initiatives is great for the planet and a major positive for sustainable travelers. But remember: it's okay to start small. There are easy steps you can take to conserve energy, water, paper, and resources. If you're feeling inspired to think bigger, upgrade kitchens and bathrooms. Plant a garden. Go solar!
To help you keep track of eco-friendly action items and execute on them with ease, download our get-started guide today. Inside, you'll find:
Room-by-room checklists that can transform your home into a green-friendly oasis
Quick and easy low-cost changes you can make now to start saving
Big-ticket modifications you can add into your eco-friendly-upgrades plan
Consider it your essential resource for a more environmentally-friendly vacation home. If you're looking for more ways to optimize your vacation rental business, we've got you covered. From interior design hacks and marketing tips to the best markets to buy in, Evolve is on a mission to make vacation rental easy — and sustainable — for everyone.