The vacation rental industry has flourished over the last few years, and experts project it won't slow anytime soon: Between now and 2024, it's estimated the space will see a market growth of $62.7 billion. (That's right, billion.)
Shifting traveler behaviors in 2020 have contributed to the widespread appeal of short-term rental property investment. With social distancing and seclusion at the forefront of everyone's minds amidst the coronavirus pandemic, people are looking to escape cities for small town America, driving to destinations that let them take in the fresh air and peace that Mother Nature provides.
With booming investment opportunities in the quaintest corners of our country, we're excited to be back with our annual list of the best places to buy a vacation rental. From hotspots nestled in the mountains to beachy enclaves, here's where you should consider scooping up property in 2021.
How We Chose the Best Places to Buy an Investment Property
The By the Numbers data below is based on a combination of proprietary and public data, but the three main metrics we took into account are:
Vacation rental performance metrics across the U.S. to learn where bookings lead to higher median revenue


Zillow's 2020 median home value to identify listing prices


Estimated yearly expenses to run a vacation rental (approximately 30 percent of total revenue) to help calculate cap rate
We also evaluated a property's potential to outperform market expectations with an Evolve partnership. Below, you'll see how we helped some of our top performers maximize income in each area, resulting in them significantly surpassing the market's projected revenue.
1. The Poconos, Pennsylvania

Back for the third year in a row, the Poconos now sit in the top spot for vacation rental property investment. An ideal destination for the outdoorsy traveler, townships like Tobyhanna, Pocono Lake, and Albrightsville attract year-round visitors with their expansive woodlands and picturesque mountain views.
New York and Philadelphia city-dwellers escape to the Poconos for skiing in the winter, hiking and water sports in the summer, and small town charm all year long. Our Real Estate Services (RES) experts suggest looking for waterfront properties near Lake Wallenpaupack or Arrowhead Lake, where most rental properties see the hottest booking demand.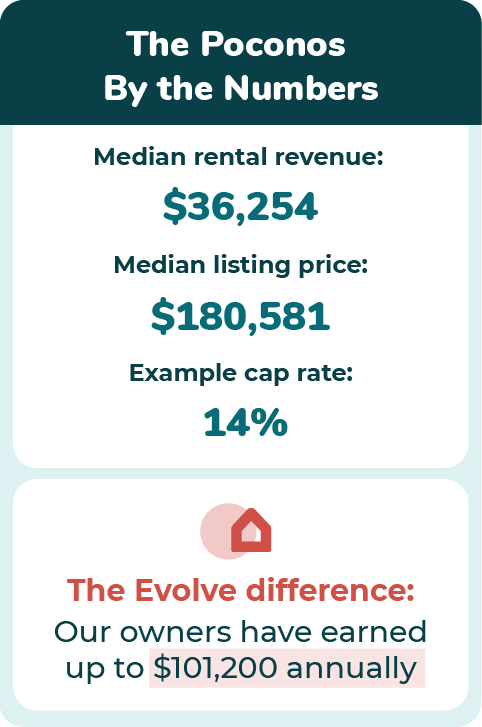 2. Blue Ridge, Georgia

Making its debut in our #2 spot is the idyllic mountain town of Blue Ridge. From hiking and horseback riding to apple picking and trout fishing, this storybook-worthy slice of the South is a vacationer's rustic dream.
Visitors often enjoy the trails and waterfalls of Chattahoochee National Forest, or ride the Blue Ridge Scenic Railway to the neighboring mountain towns of McCaysville and Copperhill — making your vacation rental the perfect homebase for a variety of dreamy day trips. Our RES team says to look for cabin homes with views to really maximize your earning potential.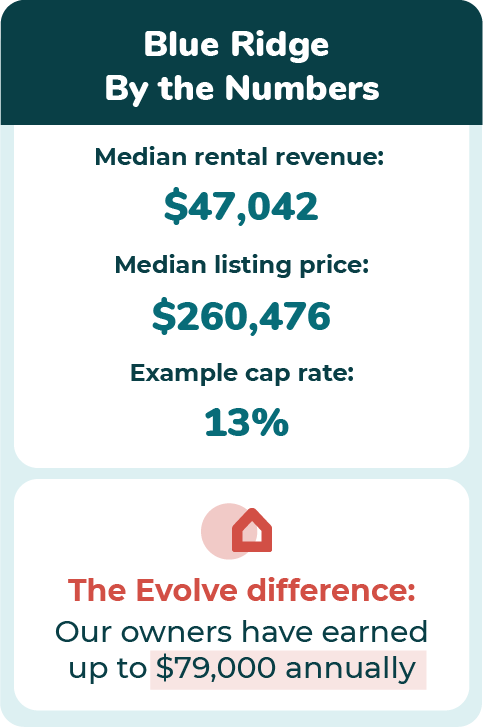 3. Pigeon Forge, Tennessee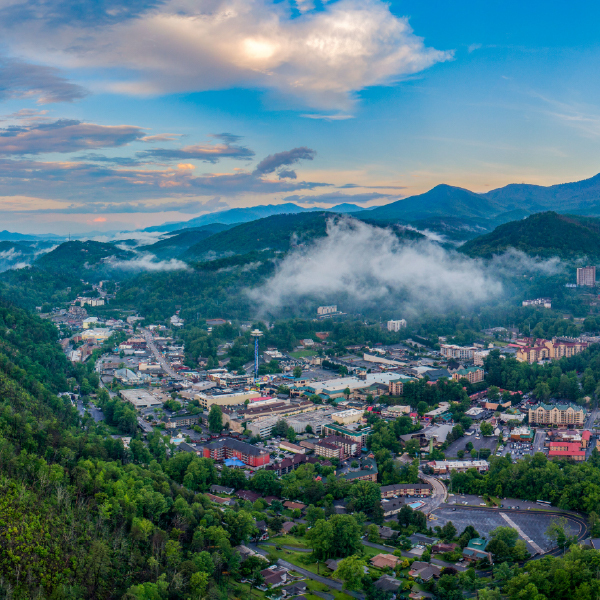 If Gatlinburg, TN wowed you on last year's best places to buy list, then you won't be disappointed in its neighbor to the north. Located in the heart of the Smoky Mountains, Pigeon Forge is the geographic epicenter of Gatlinburg and Sevierville vacation rental demand.
Known for its array of family-friendly activities and breathtaking natural beauty, visitors often come to explore Great Smoky Mountains National Park or to frequent Dollywood for rides and water slides with the kids. When the temperatures drop, skiers flock to the Ober Gatlinburg resort for thrilling days of snow-filled fun.
What's more: Evolve vacation rental owners have found the Pigeon Forge area (again, that includes Gatlinburg and Sevierville) to be a true property investment gem thanks to year-round occupancy and impressive returns on investment.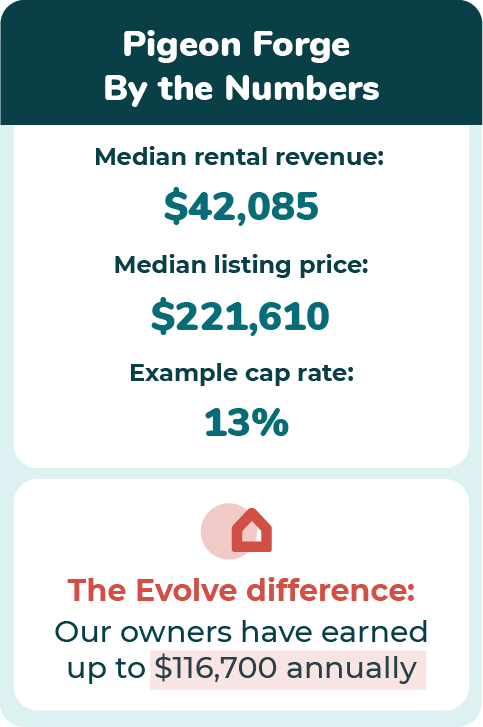 4. Granbury, Texas

Another newcomer to our lineup, Granbury presents a must-consider investment opportunity in the Lone Star State. Sandwiched between Dallas and Fort Worth, this town offers easy access to big city attractions while maintaining a rich cultural heart of its own.
For an escape into nature, Lake Granbury is the area's most notable outdoor recreation hotspot, so our RES team recommends snapping up investment properties with easy lake access or a lakefront view. Given it's only about an eight-minute drive from downtown (where live theater and historic town tours await), your guests will feel tucked away, yet never too far from the action.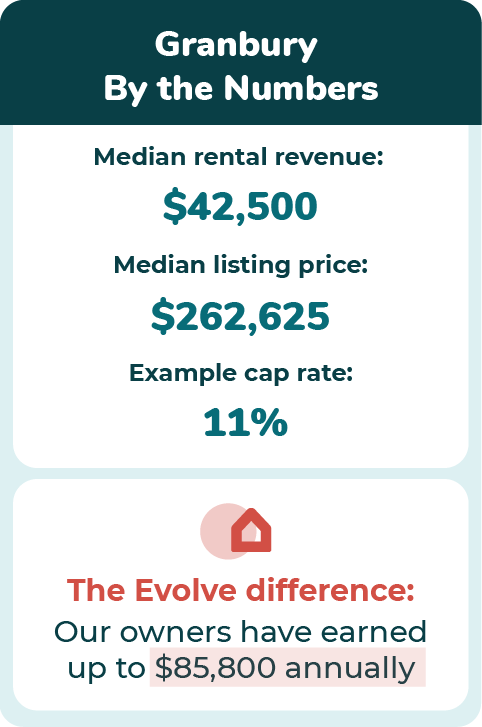 5. Ruidoso, New Mexico

File under: "Mountain town…but make it Southwest." Nestled in the Sierra Blanca mountain range, Ruidoso is a paradise for skiers and cowboys alike. In the winter, the slopes at Ski Apache Resort and Ruidoso Winter Park see an influx of snowsport lovers. In the summer, the Ruidoso Downs Race Track gets its fair share of guests, as does the photogenic Bonito Lake. Year-round, visitors patronize the area's casinos to try their luck at Billy the Kid Casino or the Inn of the Mountain Gods.
While Ruidoso median revenue hovers around $26,000 annually, we've seen Evolve homeowners earn over six figures in just 18 months. Between the wide array of outdoor recreational activities, casino nightlife, and preponderance of the ever-popular cabin home aesthetic, Ruidoso is solidly one of the best places to buy an investment property for vacation rental.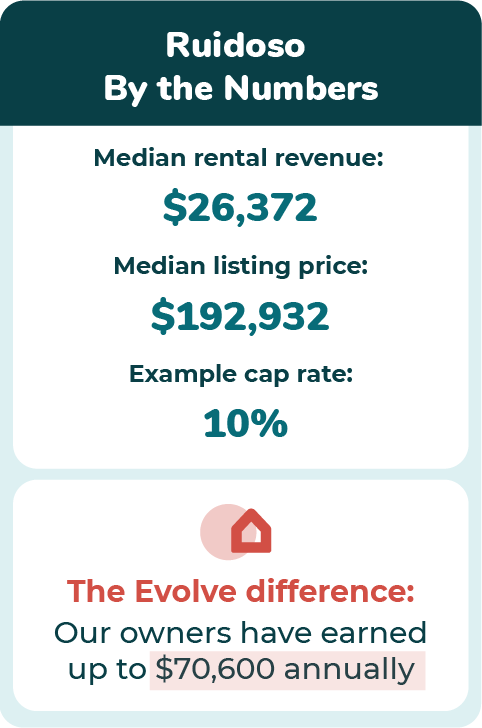 6. Broken Bow, Oklahoma

Broken Bow is so nice, we're officially featuring it twice. A woodsy wonderland with historical charm, Broken Bow is the gateway to Beavers Bend State Park and the home to Broken Bow Lake. Fly fishing, hiking, kayaking, paddle boarding, and ATV riding are just a few of the outdoor activities this lush landscape has to offer.
Given the abundance of watersport activity, our RES team says investors should look for cabins along Broken Bow Lake or in Hochatown. Many travelers are on the hunt for added amenities when they book in the area, too, so it's worth exploring luxury homes (factored into our investment stats) to maximize revenue.
That said, luxury price points aren't your only option: prospective buyers can still find homes a bit farther from the lake at prices as low as $96,000 — you may just need to anticipate lower revenue, too.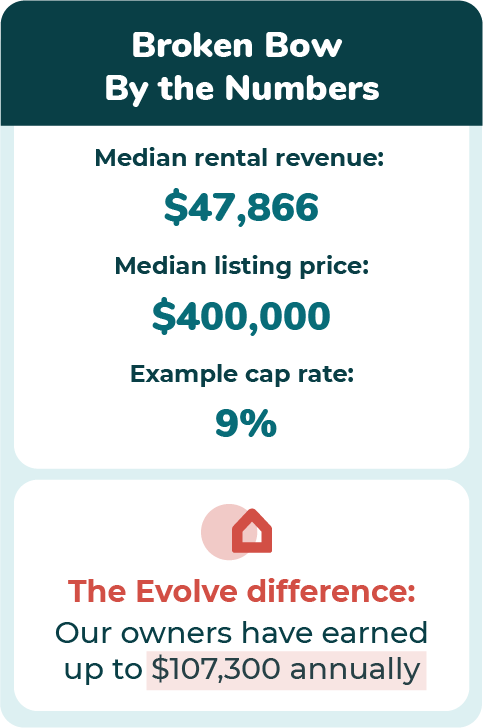 7. Branson, Missouri

Branson is making a well-deserved return to this year's best places to buy list. A popular family destination in the Ozarks, this small town with Wild West vibes has a variety of amusement parks, specialty museums, and entertainment opportunities on the famous 76 Country Boulevard (Dolly Parton's Stampede Dinner & Show is truly a can't-miss).
Guests who want to experience the great outdoors flock to Branson to hike and fish in Table Rock State Park, or take in Ozark views during a ride on the historic Branson Scenic Railway. Your occupancy won't dip in winter, either, as people gather to enjoy Branson's many festive holiday lights displays.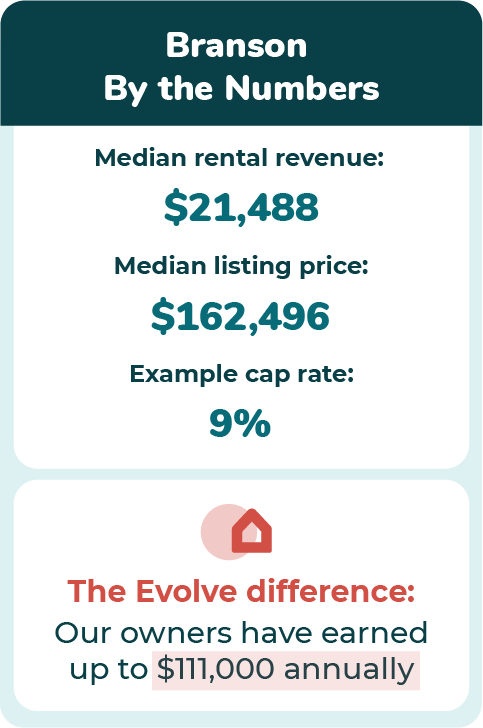 8. Lake Havasu City, Arizona

Lake Havasu City is perfect for travelers seeking desert and water. Best known for its many red rock trails, the Lake Havasu terrain is a hiker's paradise. Situated alongside Lake Havasu, though, the city becomes a bit of an oasis as explorers can uncover hidden coves and beaches. Boating, fishing, water sports, and scuba diving are among the most popular recreational activities.
For history buffs, there's also the London Bridge. Relocated from the Thames in 1964 and known as the world's largest antique, the bridge now spans the Colorado River and attracts a multitude of annual visitors.
In general, Arizona also happens to be very short-term rental friendly. Free from regulations and with year-round travel demand, our RES team says the investment opportunity in Lake Havasu City is yours for the taking.
9. Cape Coral, Florida

For investors interested in finding beach property, Cape Coral is worth serious consideration. Right on the Gulf of Mexico, this coastal haven offers more than just ocean views and sandy coves — ecological and aquatic preserves give visitors the chance to experience rich biodiversity, too.
It's easy to take a kayak excursion through the mangroves of Four Mile Cove to see herons, ibis, and eagles. Guests can also relax in Sirenia Vista Park for a manatee sighting, or take a Cape Coral Dolphin Tour on the open ocean. Of course, water sports, boating, kayaking, and fishing are also popular activities in the area.
While high HOAs are often a deterrent to Florida investors, Cape Coral is one of the few areas in the Sunshine State without heavy regulation. This means fewer hoops for buyers to jump through financially, and a much easier path to ROI on your income property.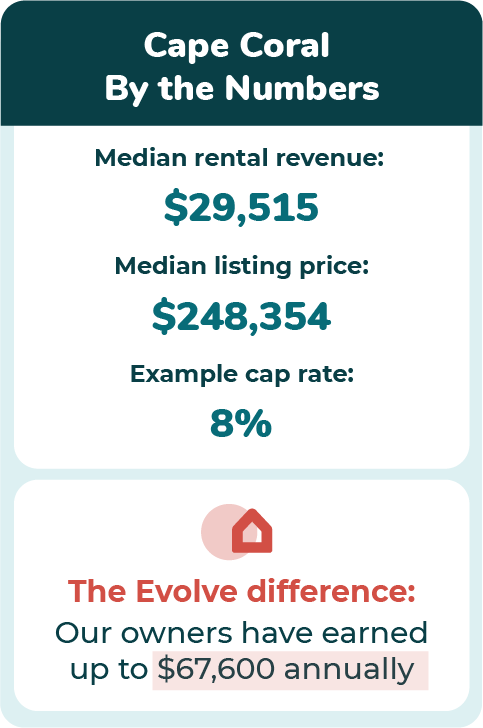 10. The Catskills, New York

A few hours north of New York City sit the Catskills, a lush mountain range dotted with charming small towns. New Yorkers head that way year-round to enjoy the natural landscape, heritage of arts and culture, and plethora of foodie communities. The Catskills also offer a variety of family-friendly activities, loads of outdoor recreational options, and the perfect backdrop for romantic couples getaways — so it's pretty likely travelers of all kinds will find something to really make their hearts sing.
Our RES team notes investors looking to capitalize on the Catskill's ever-present draw should check out the eclectic Woodstock, riverfront Catskill, pastoral Margaretville, or Windham at the area's northernmost tip. And remember, you want to strike while the iron's hot: the local market has seen 40 percent growth in the last two years alone.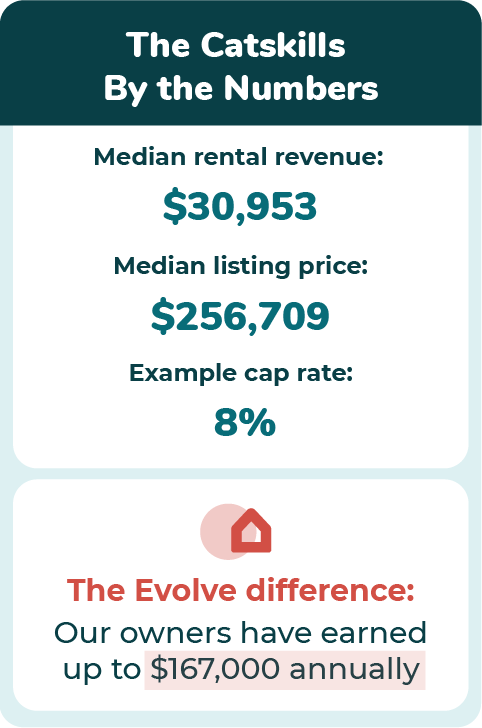 Take the Next Step with Evolve
Investing in a vacation rental property is a personal decision, but you don't have to navigate your options alone. Whether you're drawn to one of our tried-and-true mountain towns or enticed by the untapped potential of a lesser-known up-and-comer, our Real Estate Services team can help you take the next step.
We have the data to contextualize your investment opportunities and define your objectives, preferred real estate agents who specialize in vacation rental purchases, and an arsenal of management tools to help you reach your personal and financial goals once you've closed on your short-term rental property and are ready to jumpstart your business.
For additional research, here are some resources to help you better understand the potential of vacation rental investment:
And here's a quick list of additional locations that have made our Best Places to Buy a Vacation Rental list in previous years:
Now that you're ready to talk about purchasing the home of your dreams, let's get the conversation started today.