A lake town isn't just a scenic escape, it's entering a more peaceful state of being. And vacation rentals are perfectly suited for helping travelers achieve that relaxed vibe, providing pretty water views and year-round fun in a uniquely private setting.
Whether guests like to catch an early sunrise from the dock, spend the day on the water, or wind down around a fire pit with s'mores, there are plenty of memory-making opportunities on lakeside vacations. It's why they've always been an American pastime.
But they're arguably even more popular now, thanks to an increased interest in outdoor escapes. Our recent State of Travel survey found nearly 84% of guests want a waterfront getaway — and entire properties hold more appeal than shared spaces.
With increased bookings and higher profit potential available to those who invest, now is prime time to consider buying a lake house vacation rental.
You can find everything from picturesque small-town charm in upstate New York to outdoor adventure in the pine-scented forests of California. Whatever your preference, there's an ideal investment opportunity waiting in one of these best places to buy a lake house vacation rental.
How We Chose the Best Places to Buy a Lake House Investment Property
The By the Numbers data below is based on a combination of proprietary and public data, but the three main metrics we took into account are:
Vacation rental performance metrics for lake towns across the U.S. to learn where bookings lead to higher median revenue
Zillow's 2021 median home value to identify listing prices in lake towns
Estimated yearly expenses to run a vacation rental (approximately 30% of total revenue) to help calculate cap rate
We also evaluated a property's potential to outperform market expectations with an Evolve partnership. Below, you'll see The Evolve Difference, showcasing how we helped some of our top lake house owners maximize income in each area, resulting in them significantly surpassing the market's projected revenue.
1. Pocono Lake, Pennsylvania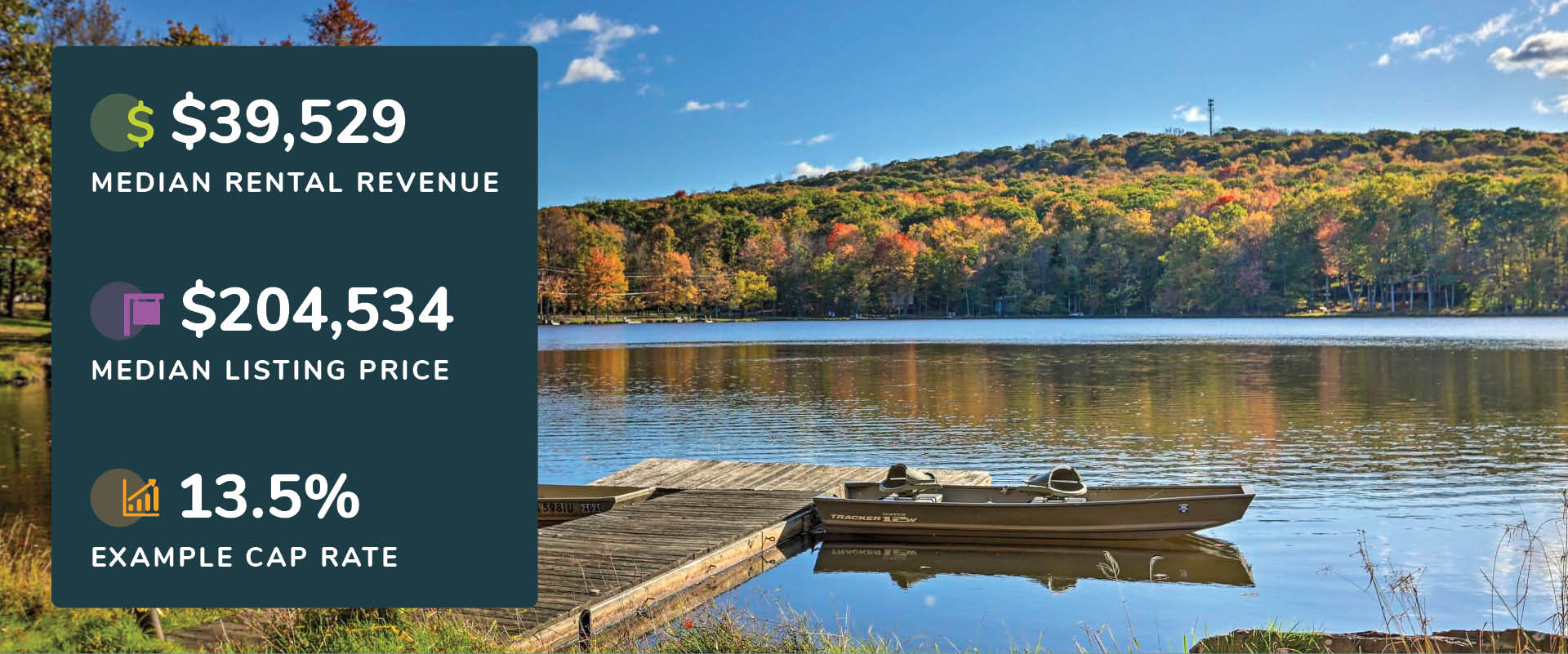 With average home prices around $204,500, Pocono Lake is one of the more affordable lake towns to buy property in. Cradled in the mountains, there's a potential 13.5% cap rate, which is the ratio between the property's net income and its market value — a key measure of success that can indicate your return on investment.
With freshwater lakes, nearby ski resorts, spectacular fall foliage, and hiking trails that wind through the wooded mountains, Pocono Lake is a year-round draw for outdoor lovers. So unlike beach houses, occupancy rates aren't likely to drop off after Labor Day. (That's also one of the reasons why the Poconos region commands a top spot on our overall list of best places to buy a vacation rental property.)
Our Real Estate Services (RES) experts recommend looking for three- to four-bedroom homes or cabins when buying in Pocono Lake. Just keep in mind HOA regulations can be a deterrent in this area, so you should work with a local real estate agent who knows the area well — and be prepared to quickly make an offer on a home you love.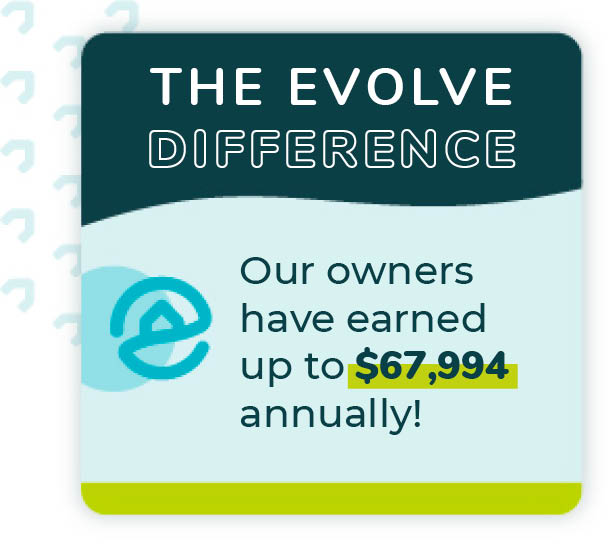 2. Pequot Lakes, Minnesota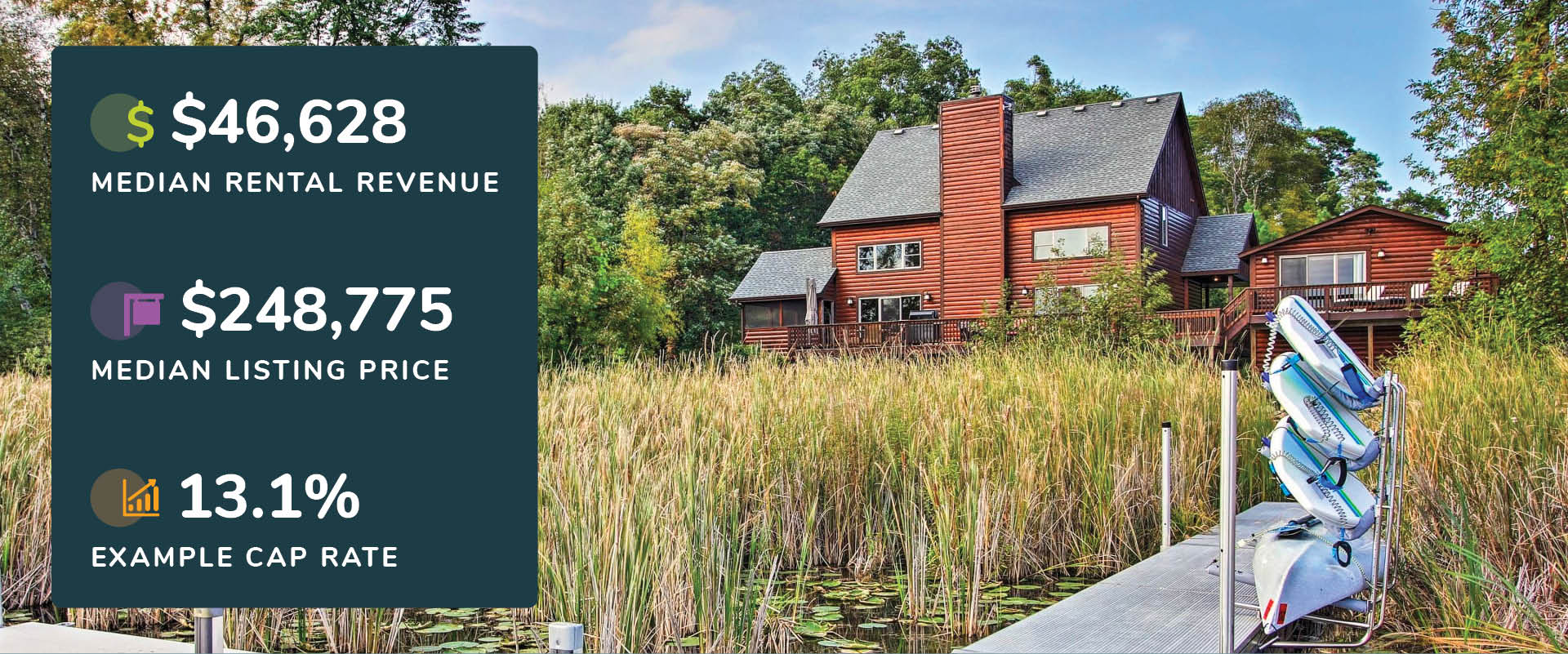 Part of the Brainerd Lakes region, Pequot Lakes consists of several popular lake areas, each brimming with small-town charm. Clear blue lakes and lush green forests set the scene, with travelers visiting for boating and fishing in the summer and ice fishing and snowmobiling come winter. (There's also plenty of hiking, biking, and cross-country skiing for those who prefer to only look at the pretty lakes.)
To make the most of the year-round investment opportunity, our RES team suggests looking for a lakefront home on Pequot Lakes specifically, thanks to its impressive 13.1% cap rate. But if the supply isn't quite what you're looking for, you can also check out nearby Nisswa, Crosslake, and Brainerd for other great places to buy a lake house.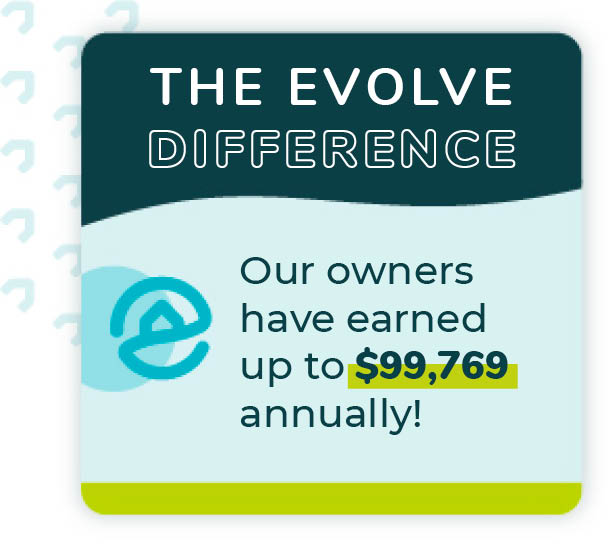 3. Geneva, New York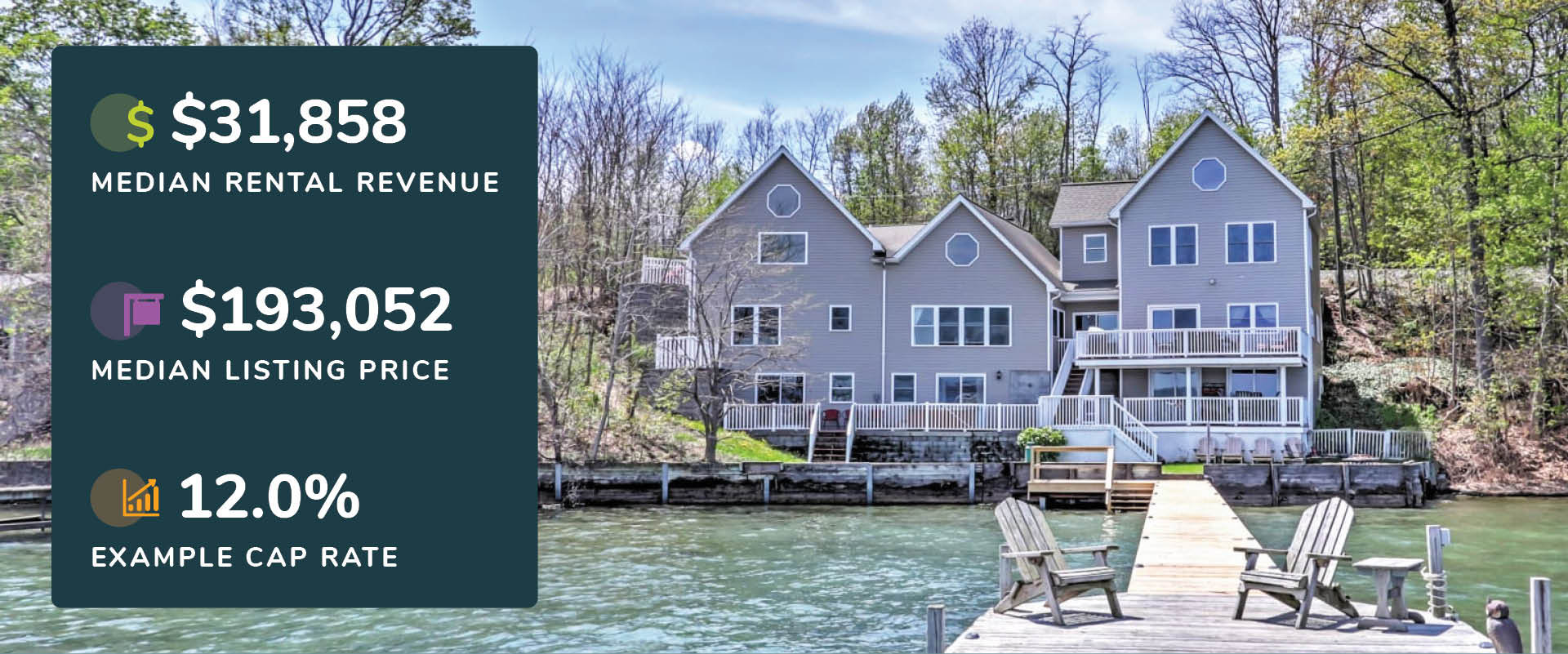 Geneva sits in the heart of New York's Finger Lakes, a scenic region known for its stunning lake vistas, wineries, and historic castles and mansions.
Median home prices are remarkably affordable at $193,052, contributing to Geneva's rank as one of the best places to buy a lake house. Even though prices tend to increase the closer you get to the lake, the upfront investment can pay off: despite median annual revenue sitting just under $32,000, some Evolve owners in Geneva have seen triple that, earning an average of about $104,000 annually.
When looking for money-making amenities, our RES team says fire pits and docks can help set your vacation rental apart from others in the Finger Lakes region, as travelers visit to enjoy the scenery and outdoors.
4. Lake Geneva, Wisconsin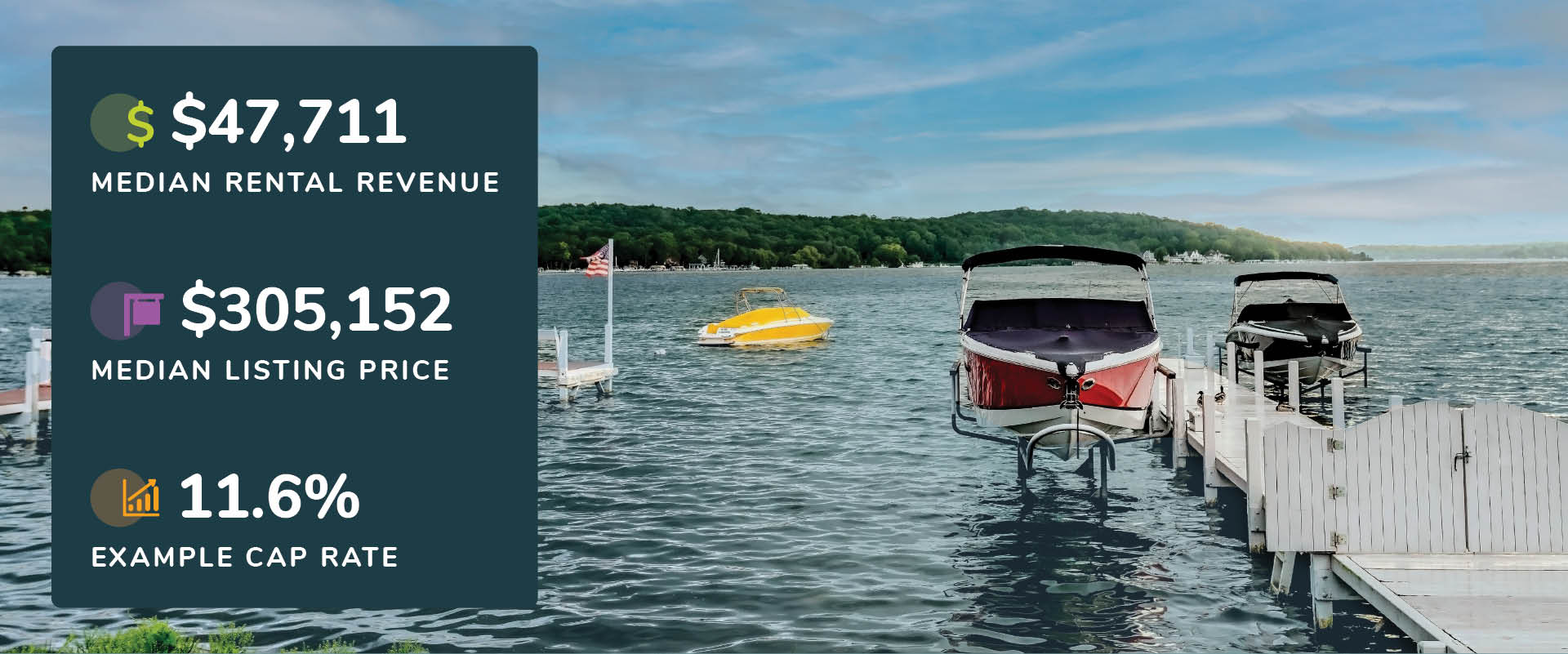 A little history for you: after the Great Chicago Fire of 1871, many wealthy Chicagoans flocked to Lake Geneva to build grandiose summer homes. Today, the lakefront is dotted with these historic estates, and visitors can admire the architecture while walking along the 26-mile Shore Path tracing the lake.
Not surprisingly, whenever these sprawling lakefront mansions are listed for sale, the price tends to be significantly higher than the area's median home price of $305,152. But our RES team says waterfront properties do tend to enjoy the highest returns on investment. (As a fun aside, if you live on the lake your mail is delivered by boat in the summer, and watching the mail hoppers jump onto docks and back on to moving boats is a real sight to see.)
If the pricy waterfront properties are above your price range, buying a few blocks away can still be a lucrative investment. Amenities like a hot tub, pool access, or patio can appeal to browsing travelers and help you achieve your occupancy goals, boosting your return on investment.
5. Granbury, Texas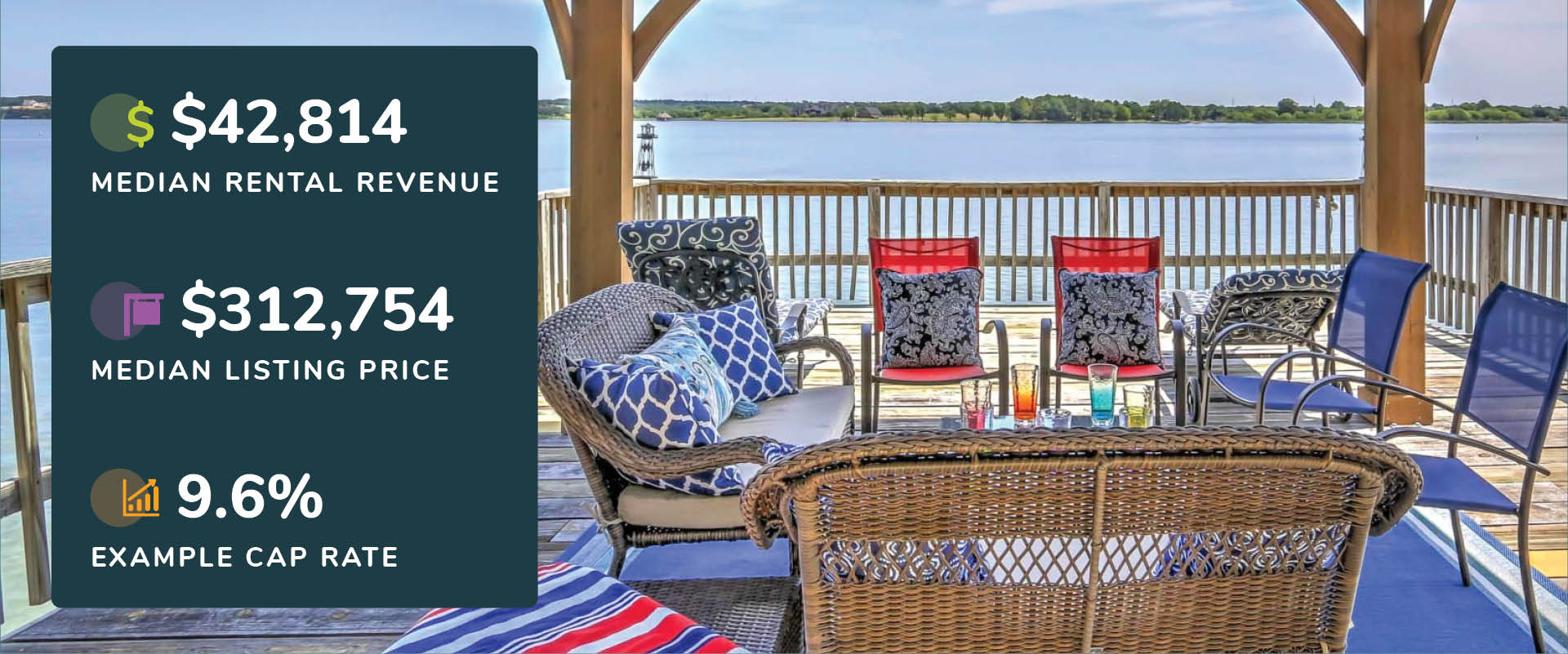 Just 30 miles from Fort Worth and an easy day trip from other major cities, Granbury is a quick escape for Texans looking to cool off. Because it's a nearby lake destination with plenty to do, there's opportunity to keep your lake house booked throughout the year with guests leaving five-star reviews.
For starters, visitors like to zip around the lake on jet skis or hop on a paddleboard to explore. There's also kayaking available along the nearby Brazos River, golfing at one of a dozen courses, or shopping and dining at Historic Granbury Square.
As you're house-hunting in this small Texas town, our RES team says to look for waterfront homes with profit-driving amenities like decks and pools to hit your revenue goals fastest. They also recommend doing so as soon as possible: Granbury has seen a lot of growth in recent years, so lower home prices (listings are currently around an average $313,0000) and ample inventory might not be easy to find for long.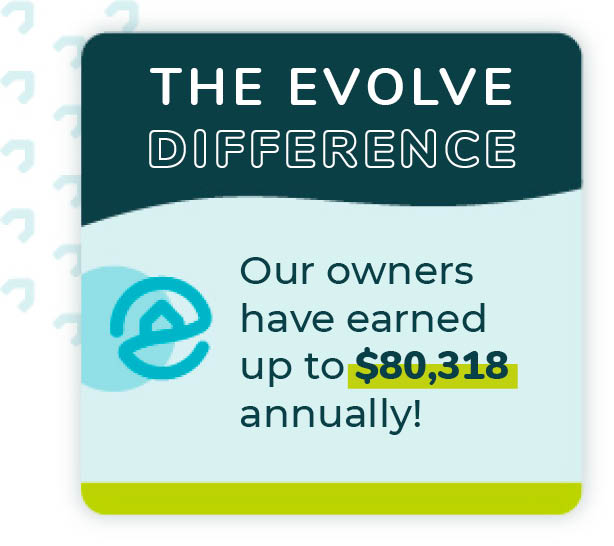 6. Canyon Lake, Texas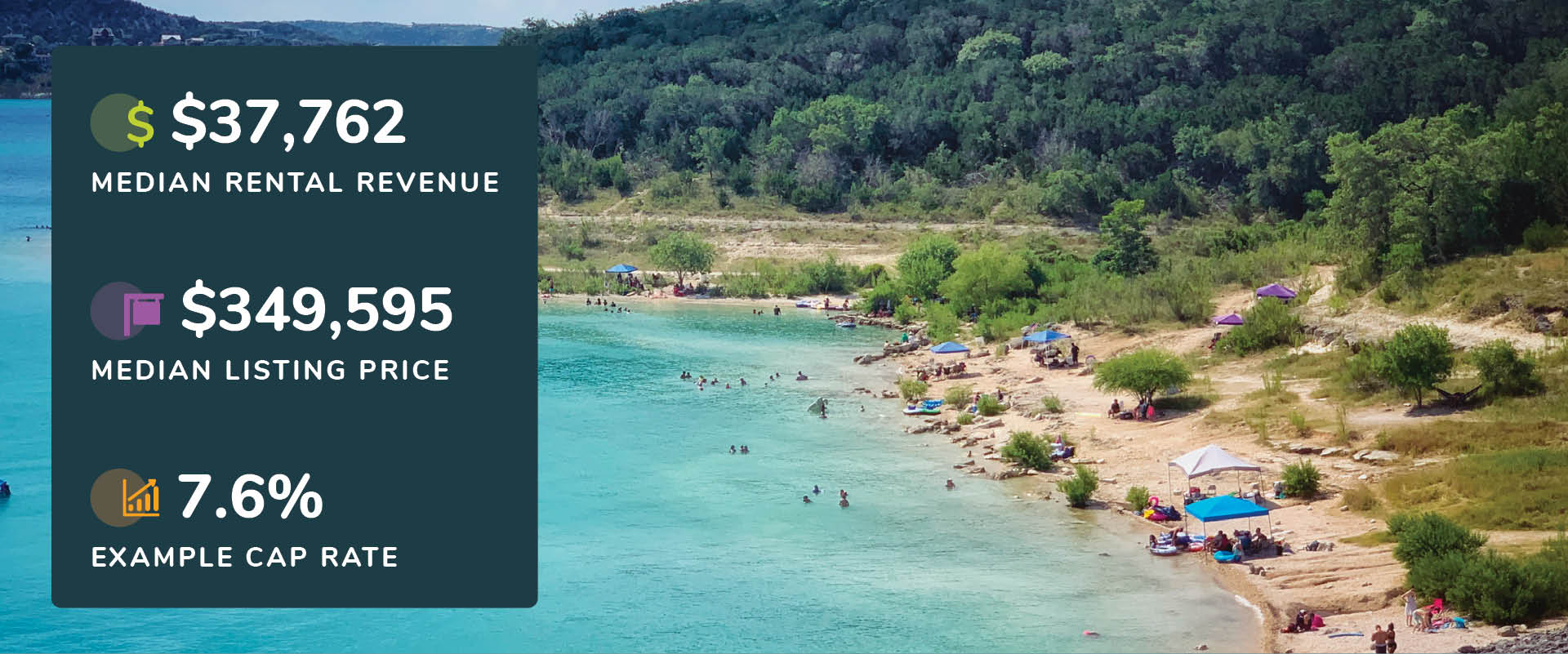 Known as the "jewel of Texas Hill Country," Canyon Lake is a popular spot for boating, swimming, and golfing. The region attracts a wide range of tourists, from families who visit the enormous Schlitterbahn water park to couples whisking away to wine country.
Our RES experts say Canyon Lake is a big draw for nearby city dwellers looking for an easy-to-reach getaway, which can help keep your lake house booked throughout the year. Those who live in Austin or San Antonio, for example, can reach the lake in about an hour, while those in Houston and Dallas are just a few hours away.
Buying a lake house in Canyon Lake provides a wide variety of options, too: you could scoop up a small piece of property right on the water, go for a pricier — but very profitable — mansion ideal for big groups, or nab some undeveloped land to build on. Just note that if you go for that last opportunity, it will take much longer to earn a return on your investment as you'll need to go through permitting and building processes.
7. Gilford, New Hampshire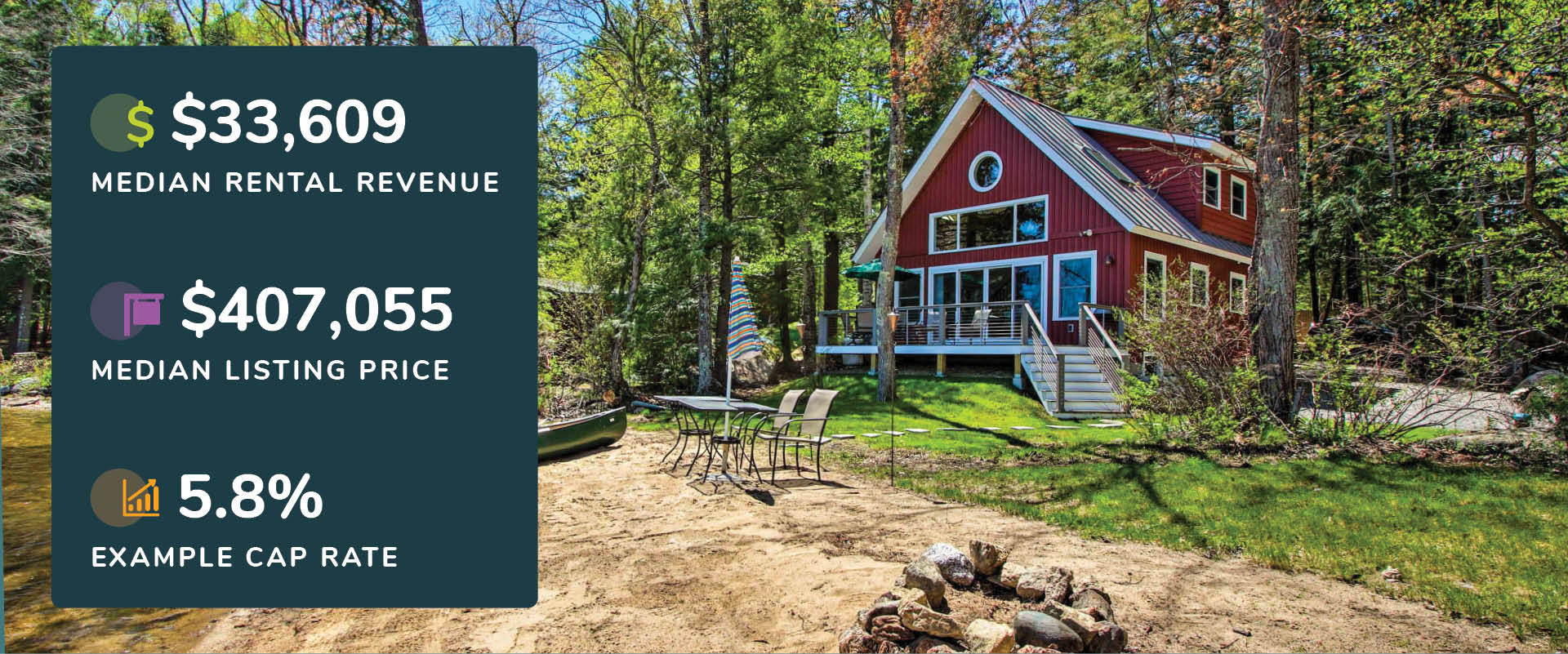 Lake town magic meets New England charm in Gilford. Despite being a quaint town, Gilford is home to both an 8,000-seat amphitheater that hosts a busy concert line-up and Gunstock Mountain Resort, where travelers come to ski. (Not to mention its fall foliage is pretty spectacular.)
Properties that sit right on Lake Winnipesaukee are in high demand amongst travelers coming to Gilford, and amenities like a dock, hot tub, and access to a sandy beach are sure to help you secure booking after booking.
That said, your house doesn't have to be right on the lake in order to see success. Adding lake-friendly amenities like kayaks, paddleboards, and life vests make it easy for guests to still enjoy time on the water, while Adirondack chairs and lawn games provide easy relaxation back at home.
You could also consider buying in nearby Ossipee, another spot known for swimming and boating, with average home prices just under $300,000 (Gilford sits around $407,000) and a potential 3.1% cap rate (compared to Gilford's 5.8%).
8. Grand Lake, Colorado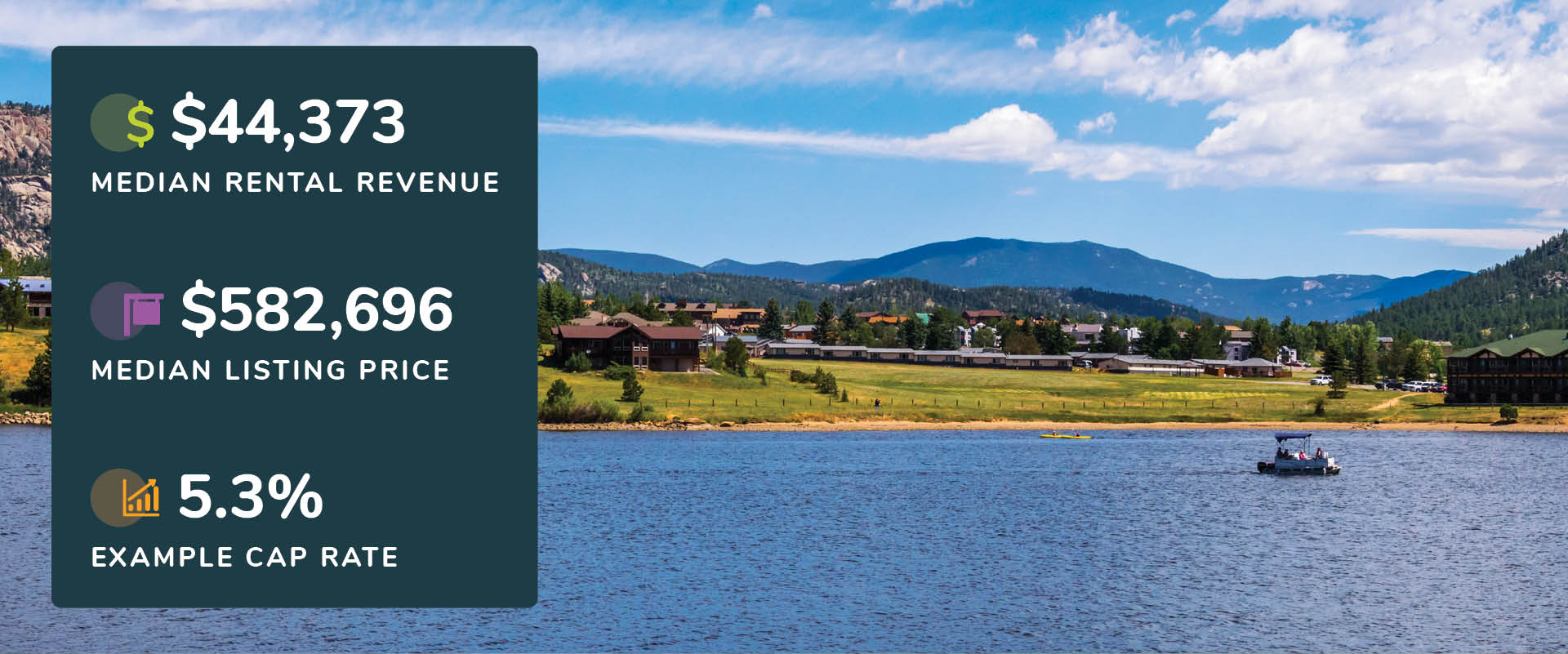 Visitors coming to Grand Lake get a two-for-one travel special: not only is it home to Colorado's largest natural lake, but it's also considered the Western gateway to Rocky Mountain National Park, an outdoor adventurer's dream thanks to its array of photo-worthy hiking and horseback riding trails.
Our RES team credits Grand Lake as one of the best places to buy a lake house because of its saturated inventory, with plenty of properties available along the alpine lakeshore. The caveat: spacious lakefront cabins can be the most costly upfront investments in the area, so it's worth considering options a touch removed from the water to capture demand on a smaller budget.
The best part, though, is how well a Grand Lake home can perform year-round. Ice cream shops, putt-putt courses, and a boardwalk (not to mention the aforementioned national park) all bring guests in during warm-weather seasons, while snow bunnies can enjoy this quiet mountain town as a basecamp for skiing and snowshoeing adventures.
9. Lake Havasu, Arizona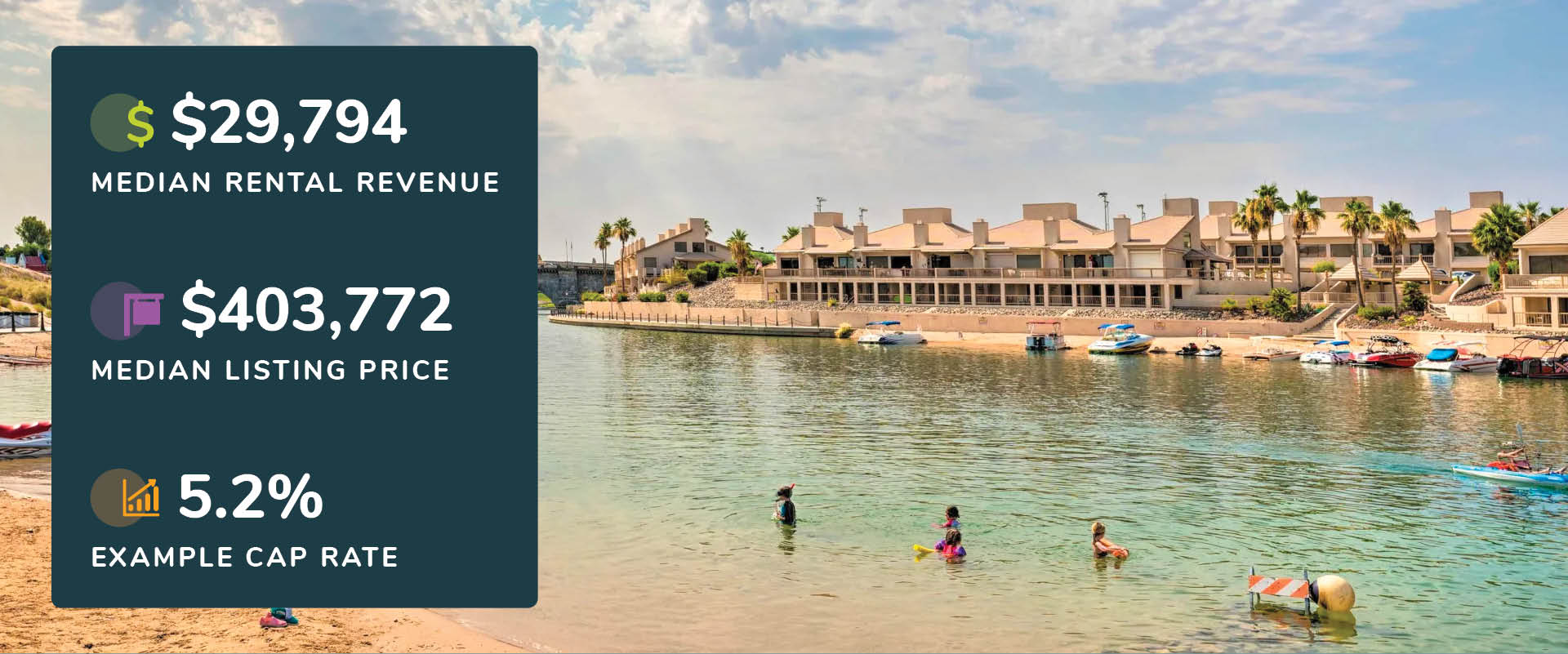 Lake Havasu is considered Arizona's playground because there's so much outdoorsy fun to enjoy. From hiking and biking to boating and offroading, those who come to this sunny city have hundreds of miles of shoreline and nearby mountains to discover.
While Lake Havasu offers solid home inventory with average prices hovering near $404,000, it's tough to snag true waterfront property as public parks and beaches take up a good portion of that real estate. To offset potential distance from the lake, our RES team recommends looking for properties with coveted amenities like boat garages, pools, and covered lounge areas.
A good share of rental properties in this area have three bedrooms, so your earning potential can also increase if you hit that number — or go higher to accommodate larger groups. Our RES team says five-bedroom homes in particular are likely to net you a greater payoff in the long run.
10. Big Bear Lake, California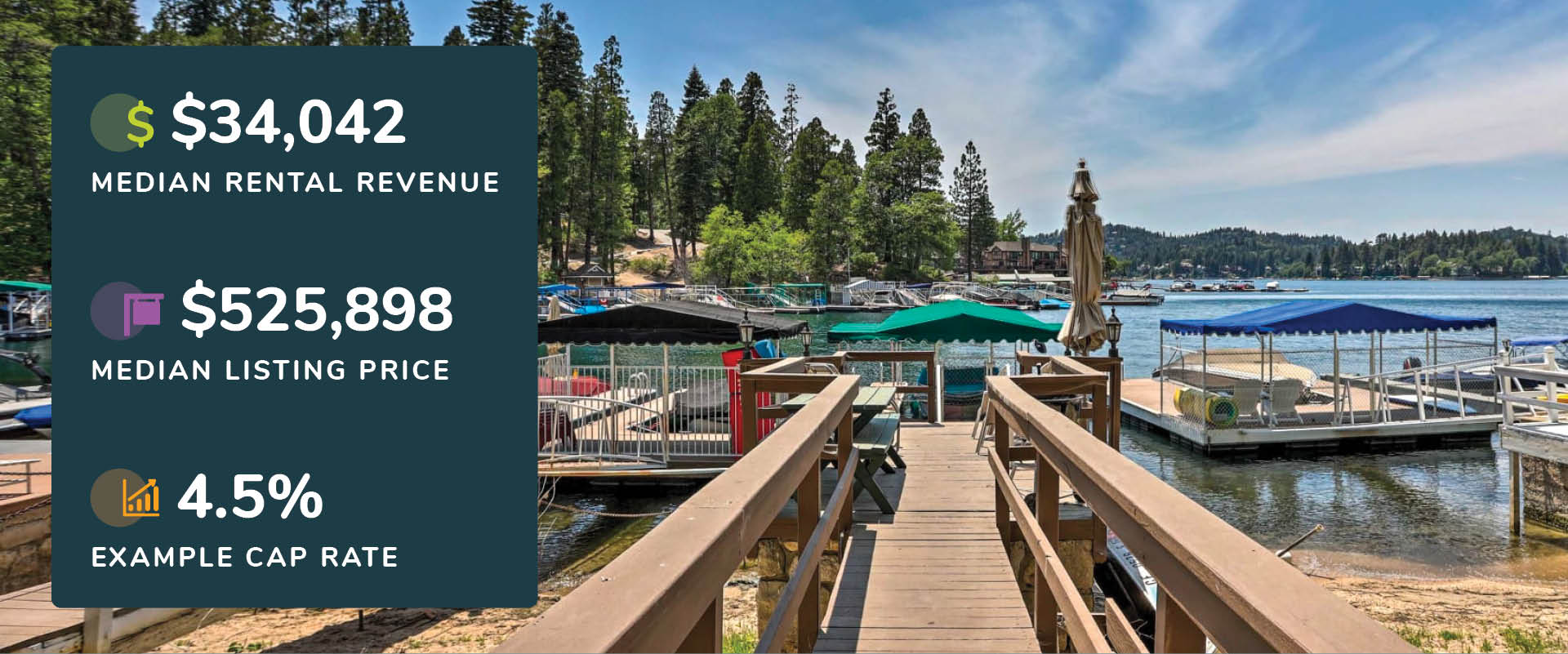 Big Bear is located in the heart of Southern California, making it a popular escape for those in Las Vegas and Phoenix who want to cool down and enjoy the San Bernardino National Forest. With public lake access, a beach, boat docks, marinas, and even a pirate ship, Big Bear is the sort of lake town that dreams are made of.
Like much of California, home prices are steep in Big Bear Lake, especially as you start looking for lakeshore property. But with so much to do in the area, homes that aren't right on the water can still provide an incredible home base to outdoorsy travelers. Plus, our RES team notes you're well-positioned to meet your occupancy goals here (lakefront or not) because the nearby ski areas help make Big Bear a year-round destination and a great place to buy a ski property, too.
Adding low-cost amenities like trail maps, board games, and telescopes can complement the bigger-ticket additions (think decks and hot tubs) you should look for when buying. It's also important to research local permitting and operational regulations. While Big Bear Lake doesn't currently have the restrictive HOAs and short-term rental bans typical for California, there are a number of city ordinances that could affect which properties are able to be rented out.
Take the Next Step with Evolve
Investing in a vacation rental property is a personal decision, but you don't have to navigate your options alone. Whether you're drawn to one of our tried-and-true lake towns or enticed by the untapped potential of a lesser-known up-and-comer, our Real Estate Services team can help you take the next step toward buying the lake house of your dreams.
We have the data to contextualize your investment opportunities and define your income goals, preferred local real estate agents who specialize in vacation rental purchases, and an array of management tools to help make your lake house a success once you're ready to jumpstart your business.
For additional research, here are some resources to help you better understand the potential of vacation rental investment:
Now that you're ready to talk about buying the best lake house for you, let's get the conversation started today.