Desert vacations offer an immersive way to connect with nature. Days in the desert bring scenic drives, otherworldly hikes, and afternoons beneath the sun. At night, you can marvel over dark skies and experience restorative, uninterrupted quiet.
Whether you're looking for a luxurious desert getaway or something a bit more rugged, you'll find it here.
The Peaceful and Pampered Desert Getaway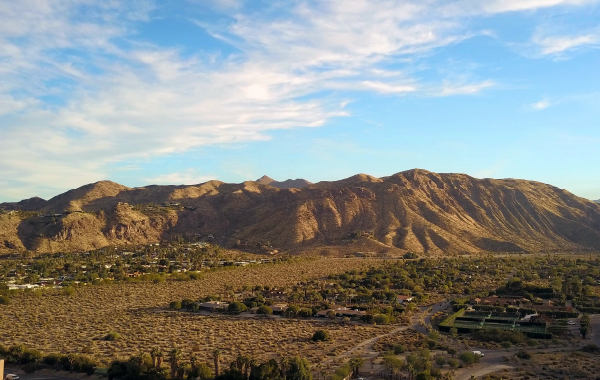 Head to a stylish luxury vacation rental in Joshua Tree or the Palm Springs desert area.
Find Serenity at Some of the Best Spas in Palm Springs
Luxurious desert vacations call for spa treatments in breathtaking settings — and that's just why Palm Springs is the perfect place to get a facial or a massage. Estrella Spa is one of the best spas in Palm Springs for a swanky treatment in a garden hacienda setting, and the Spring Resort & Spa offers a menu of elegant treatments that come with two hours of soaking time in desert hot springs.
If you're looking to try something unique (say, floatation therapy), head to Desert Serenity Float & Spa for a chance to turn your mind off and reset.
Marvel at Dark Skies With an Evening of Joshua Tree Stargazing
Joshua Tree National Park is a fitting adventure for pampered desert vacations — it's relatively flat, and you don't have to do a lot of hard work to enjoy a stunning view.
The gates at Joshua Tree are open all hours, inviting you to drive right in and roll the sunroof down (or step outside of the car) and view thousands of stars above you. Once you've finished up your Joshua Tree stargazing adventure, end the evening with a swizzle or a sidecar at the chic Seymour's in the Palm Springs desert area.
Indulge in Unforgettable Eats in Palm Springs
Beyond its posh facades, reveled haunts, and glistening pools, the Palm Springs desert is an oasis for foodies. Get dressed up and start the day with French fare surrounded by blooming flowers at FARM or grab decadent takeout at Wilma and Frieda's and eat churro waffles by your home's private pool.
Come afternoon, embark on a self-guided mid-century tour of the area (be sure to pick up a Stumptown roast at Ernest Coffee before you hit the road). When it's time for dinner, check out Workshop Kitchen + Bar, a 90-year-old movie theater retrofitted into a modern, al fresco dining hot spot.
Stay in This Palm Springs Desert Home for Sophistication and Stargazing: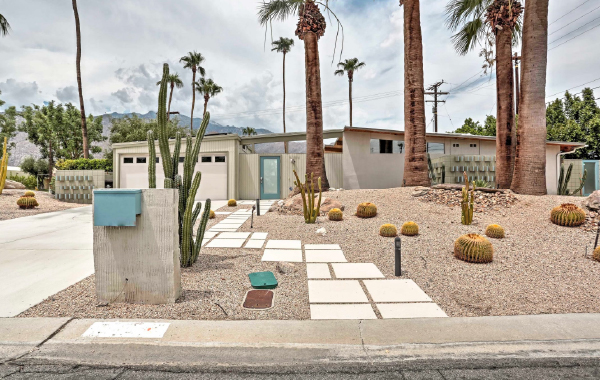 This inviting luxury Palm Desert vacation rental is made for laid-back days. Playful cacti immerse you in the setting, whether you're sitting by the resort-style private pool or in the private master suite soaking tub. Windows welcome the light in here and make it so that a postcard view is always on the horizon.
Want something that's upscale but still wallet-friendly? Head to this incredible mid-century Palm Springs vacation rental with a pool.
The Outdoor Adventure Desert Getaway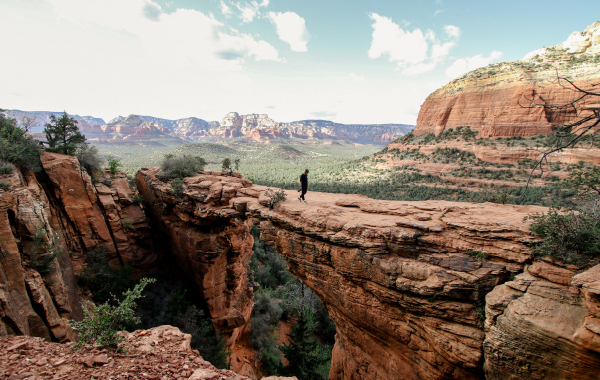 Surround yourself with the best Arizona views in Tucson, Phoenix, Scottsdale, or Sedona.
Experience an Awe-Inspiring Sunset at Saguaro National Park
Adventure into Saguaro National Park for some of the best Arizona views: classic desert terrain, gorgeous sunsets, and so many of the park's namesake cactus, the saguaro. The Valley View Trail (rated easy) is laden with seasonal wildflowers that make a dreamy backdrop.
If you're looking for a scenic drive, take the Cactus Forest Loop for an overview of the surroundings before diving deeper. For otherworldly photos, be sure to stop at Signal Hill's prehistoric petroglyphs. On your way out of the park, visit the Arizona-Sonora Desert Museum to see even more wildlife, reptiles, and breathtaking gardens up close.
Get a New Perspective With a Camelback Mountain Hike
Phoenix's Camelback Mountain hike is definitely a challenge you'll want to be prepared for — but it offers unbelievable 360-degree views of the Sonoran desert landscape at the top. There are a few different trails up the mountain if you're feeling brave (note, all of these hikes are rated hard), and you can also enjoy similar views without a sweat from one of the restaurants near the base of the hike, including the tasty Chelsea's Kitchen.
More manageable hikes await you at the McDowell Sonoran Preserve in Scottsdale, which lets you get up close with unique desert terrain on walks like Sunrise Peak (rated moderate difficulty) or Inspiration Point (rated moderate difficulty).
Fuel Your Adrenaline in Sedona
Desert vacations in Sedona let you fly through red rocks and feel the wind in your hair. Take an off-roading adventure through the Arizona desert along Schnebly Hill Road, tower above the area from a hot air balloon ride, or test your fear of heights at Devil's Bridge.
When you're ready to take things at a slower pace, hike up to Sedona's Snoopy Rock (which resembles the infamous Peanuts character) or wind your way through Oak Creek Canyon, a stunning gorge that feels like a less-visited Grand Canyon. Then, wind down with a peaceful, meditative moment at one of the area's infamous energy vortexes or spend golden hour admiring the views at the scenic Sedona Airport Overlook.
Stay in This Sedona Vacation Rental With the Best Arizona Views: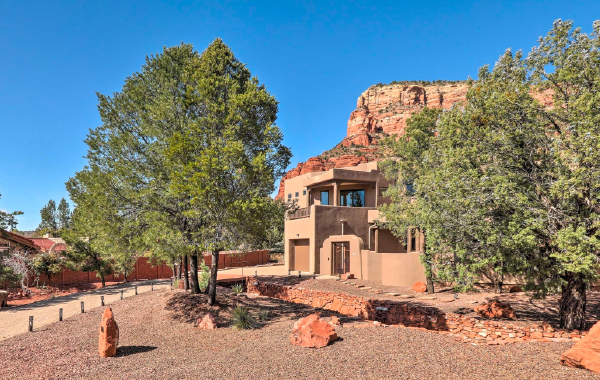 Sleep surrounded by scenery after a day of outdoor adventure. This pet-friendly Sedona retreat lets you rise to views of red rocks every day of your desert vacation, whether you're on the sprawling back patio or the secluded upstairs balcony.
If you're feeling glamorous, this oasis in Cave Creek, Arizona features a breathtaking pool and hot tub, as well as a private outdoor putting green.
The Photographer's Dream Desert Getaway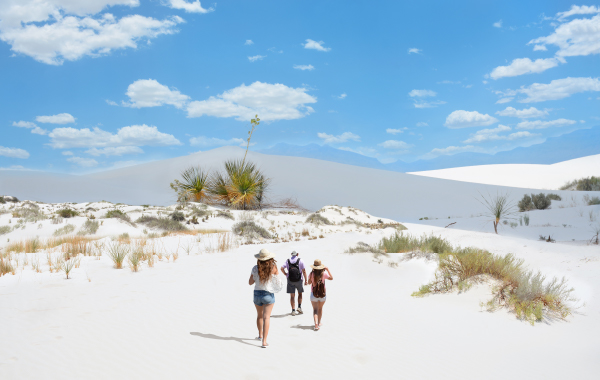 Head to the New Mexico desert for surreal hikes and adventure.
Wander Through New Mexico's White Sand Desert
Get lost in miles of pristine white gypsum sand at White Sands National Park, a mesmerizing setting for landscape photography or portraits. Take a 16-mile round trip drive on Dunes Drive and hop out for photos wherever inspiration strikes. Then, enjoy a more immersive view of the New Mexico desert by hiking into the sand dunes on the rolling Alkali Flat Trail (it's strenuous) or the Dune Life Nature Trail (moderate).
If you're looking to snap a dramatic action shot, spend some time sand sledding the dunes before nightfall. Once it's dark here, some of the brightest stars you'll ever witness come out over the surreal landscape.
Snap Photos of Incredible New Mexico Desert Art
Right in Las Cruces, you'll find art you might not be expecting: wild, bright murals. The water tanks in Las Cruces even get painted, which makes for a strong photo opportunity with vibrant color juxtaposed against the landscape — perfect for artistic desert vacations.
Go Underground at Carlsbad Caverns National Park
At Carlsbad Caverns National Park, you can venture beneath the ground of the Chihuahuan Desert and explore photogenic dissolved limestone caves. Take a walk around The Big Room here, where there are spectacular views around every corner, reminiscent of the formations found at the Grand Canyon.
If you're visiting in late summer, cozy up at the outdoor amphitheater and watch as thousands of bats take flight.
Stay Near White Sands on Your New Mexico Desert Vacation: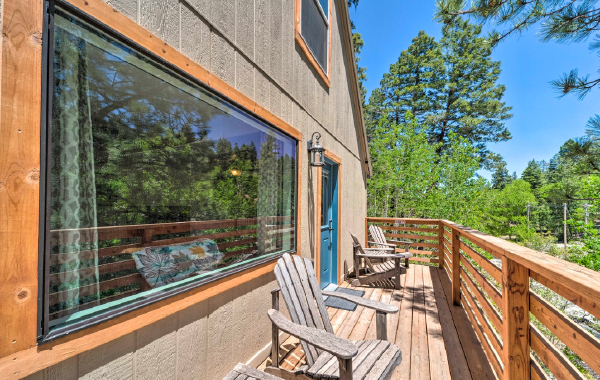 Desert vacations to New Mexico call for sweeping views. Stay at this gorgeous, modern home in Cloudcroft, New Mexico. At this affordable escape, you're also close to the slopes at Cloudcroft (which means if you time it right, you can see the white sands and enjoy a ski, too).
Looking to hit Santa Fe on your way driving out to the desert? Rest easy at this Instagrammable bohemian home where every room is luxurious and intentional, including an outdoor patio made for evening toasts.
Wild Sights. Dependable Places.
Stay in the moment on your trip, whether you're experiencing an unbelievable sunset or taking a dip in a desert hot spring. Every Evolve vacation rental is verified in person and backed by our Rest Easy Promise — meaning it will always be as great as what you booked online. If your plans change or you need support during your stay, we're here for you during your desert getaway.
Read this next: Explore more of the great outdoors by reading our feature on national parks. And if all of that desert heat makes you want to cool off, you can also check out our guide to vacation rentals with amazing pools here.