Every year is a collection of memories. 2022 could be the year you witness foliage that resembles a real-life painting as you wind through the Poconos. It could be the holiday season you stroll a Bavarian-style mountain village, marveling over 500,000 lights with a hot pretzel in hand. Or maybe, this is the year you finally take a beach trip to the islands with nothing to do but admire gentle waves and miles of white sand.
Planning your 2022 vacation is half the fun — and science shows that even thinking about travel can make you happy. Whether you're looking forward to a family vacation or a secluded solo getaway, this trip planner is sure to take your imagination on an adventure. Book early, start getting excited and know that every Evolve vacation rental comes with the flexibility to change your plans.
Health and Wellness Update: For your safety, we require you to follow local instructions regarding COVID-19 and wear a mask if you choose to interact with an owner. Evolve's flexible cancellation policy helps you book with confidence.
Spring 2022 Vacation: Go Island-Hopping in Cape Coral, FL

This spring is about seeking peaceful moments and taking it easy. In Cape Coral, you can visit islands that are home to picturesque shores by way of a short drive. Grab your sun hat, find a place in the sand, and float in the ocean as you admire vast blue skies.
Mornings in Cape Coral: Start the day with a maple latte and s'mores waffle (or find savory eats, too) at Bullig in Fort Myers. Then, head to Manatee Park in North Fort Myers, a warm-water refuge for manatees. On your way back to your vacation rental, stop by the lively Fort Myers River District and pop into local shops and galleries on foot.
Afternoons in Cape Coral: Cape Coral days are best spent perfecting your tan from an island in the Gulf of Mexico. Pass slow afternoons on Sanibel Island, known for stunning white-sand beaches, see-through waters, and beautiful shells that find their way to shore. Play in the sun at Bowman's Beach, grab a quick New England-style seafood sandwich at Clam Shack, and take a drive over to Captiva Island, where more unspoiled beaches and clear waters await.
If you're back from the islands early, toast to the day's adventure at Wicked Dolphin Rum Distillery. You can schedule a tour here to gain a deeper understanding of the spirit or taste your way through rums that are big on flavor, including fruit Rumshines.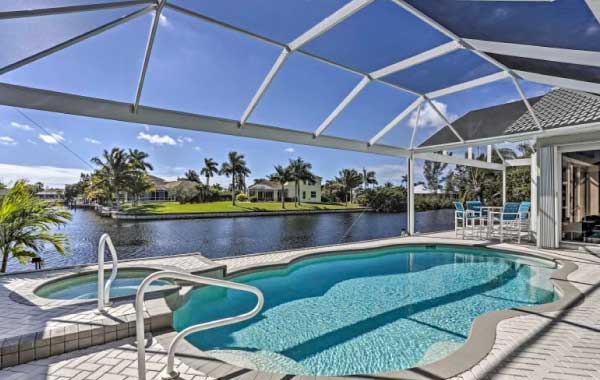 Evenings in Cape Coral: At night, dress up and dine on an organic farm covered in Spanish moss that sits on 100 acres of land. After a scenic meal at Rosy Tomorrow, you'll leave with a new appreciation for the fresh Florida produce and grass-fed, heritage meats.
If you're looking for more a relaxed evening — maybe a sunset walk at Bunche Beach and a scoop of ice cream — stop into Cape Creamery for everything from classic flavors to Banana Puddin' and Great White Shark scoops.
Where to Stay: Enjoy a dip in your private pool or hot tub with serene canal views in the luxurious Cape Coral vacation rental (pictured above) that's a resort of your own.
Summer 2022 Vacation: Seek Nostalgic Nights in Blue Ridge, GA

In Blue Ridge, you can breathe in crisp alpine air and enjoy summer how it's best spent: nestled in the mountains. Go on hikes surrounded by waterfalls, pay a visit to local orchards, and when evening rolls around, time-travel back to 1955.
Mornings in Blue Ridge, GA: Sleep in, then enjoy a leisurely morning walk around Lake Blue Ridge. When your appetite kicks in, grab legendary Cuban sandwiches and Cafe Con Leche at Rum Cake Lady Cuban Cafe (and treat yourself to a rum cake for your afternoon drive ahead). 
Afternoons in Blue Ridge, GA: The Blue Ridge Mountains are home to a handful of small towns that make charming day trips. Helen, Georgia — a European-style village with only 430 residents — is just about an hour from Blue Ridge.
Right in Helen, you can rent tubes for a refreshing river float, visit the awe-inspiring Anna Ruby Falls that tumble through the forest, or spend the afternoon sipping your way through local tasting rooms. Be sure to bring your camera along, as you might be inspired by the cobblestone streets and playful facades here. 
Before you head back to your Blue Ridge vacation rental, pay a visit to Mercier Orchards and pick fresh fruit right off the vine for snacking later. If you're in more of a mood to grab and go, Mercier sells pies, jams, and even hard cider that let you sample their signature apples.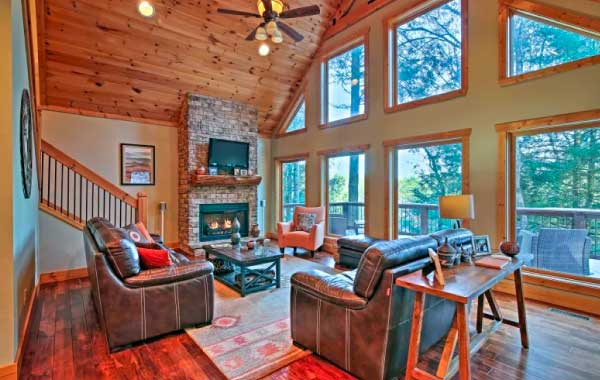 Evenings in Blue Ridge, GA: Make the most of long summer nights by going old school. Grab a cold pint at Grumpy Old Men Brewery, pick up candy at Huck's General Store, then head down the street to Swan Drive-In. Awaken the past as you turn on the radio, let the headlights dim, and experience what a visit to Blue Ridge might've been like back in 1955 when the theater opened.
If you're looking to get dressed up, make a reservation at Black Sheep, where you can savor steaks and seafood inside of a darling, historic house circa 1914.
Where to Stay: Take in the lush surroundings next to the fire from this Blue Ridge, GA vacation rental cabin (pictured above) that offers an upscale spin on rustic living.
Want more outdoor-focused summer travel ideas? Read our feature on National Parks.
Fall 2022 Vacation: Admire Fall Foliage and Sip Cider in the Poconos

Hit the road, put on your favorite sweater, and experience a brilliant palette that rivals the very best in fall foliage. The Poconos are about taking your time and reconnecting with nature through drives, day trips, and the occasional glass of local wine.
Mornings in the Poconos: Cook a decadent fall breakfast in your vacation rental (like one of these ideas from Love and Lemons). Once you're fueled up, grab your camera and adventure out on a tour of local waterfalls.
A short and easy hike will take you to the base of Hawks Falls at Hickory Run State Park, or you can head to the immersive Bushkill Falls, where eight cascading waterfalls paint the side of the rock. For a day trip, take a drive to the tiny, romantic town of Jim Thorpe, PA, where a mansion from 1861 awaits your visit.
Afternoons in the Poconos: Midday is the prime time to wind through the mountains, admiring fall in its rich hues. Heat some cider at your cabin and pick one of these seven scenic drives. The best way to see fall color is to take your time and stop when something piques your interest — especially in the breathtaking Poconos Mountains.
When you're ready to relax, stop for a wine tasting at Three Hammers Winery, and bring a bottle home for later.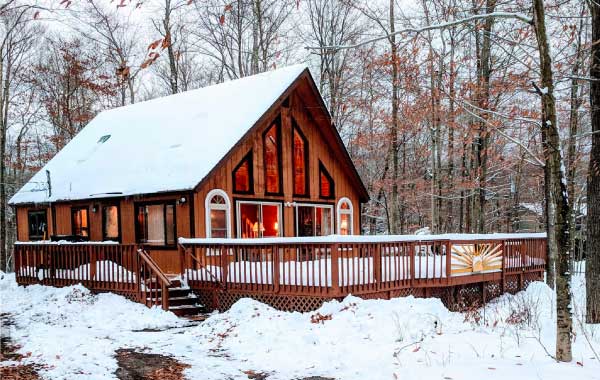 Evenings in the Poconos: Fall is about crisp evenings on the porch, sipping with a blanket and good conversation. Grab something cozy to-go for dinner (like locally loved pho), then sit outside your vacation rental cabin surrounded by trees, admiring their colors as they shift in the fading light. Then bring the party inside, playing board games, curling up with a movie, and falling asleep in the stillness of the mountains.
Where to Stay: This welcoming Poconos vacation rental cabin (pictured above) fills fall days with natural light, crackling fires, and a porch overlooking it all.
If you're in the mood for more cozy getaway ideas, read our guide to hygge homes.
Winter 2022 Vacation: Find Yourself Amid 500,000 Lights in Leavenworth, WA

Cradled in the Cascade Ridge, this inviting town embraces the holiday season each year by way of half a million holiday lights that twinkle over Bavarian-style buildings. Drink cocoa at your Leavenworth vacation rental, then let yourself get lost in the magic of Leavenworth, home to authentic German restaurants, quaint shops, and quiet natural wonders.
Mornings in Leavenworth, WA: Get a strong start with an ethically sourced brew at J5 Coffee, where decadent flavored lattes are made with love. Next, head over to The Gingerbread Factory and pick up decorated gingerbread cookies. Wander the bright, dreamy downtown area as you shop small-batch home decor at Posy Handpicked Goods, find a new read at A Book for All Seasons, or pick up a piece of German Christmas decor that's sure to become an heirloom at Tannenbaum Shoppe. 
Afternoons in Leavenworth, WA: Leavenworth is home to a one-of-kind museum, where nutcrackers are the star. Explore 7,000 timeless wooden toy soldiers at The Nutcracker Museum, befriend woodland caribou at Leavenworth's Reindeer Farm, and embark on a fairytale sleigh ride journey through the snow. Once you're ready for some warmth, grab an afternoon pie at Blewett Brewing.
Evenings in Leavenworth, WA: As night falls over this Bavarian village, take a walk and experience why Leavenworth is called The Village of Lights. Then, ski Cascade Ridge under the enchantment of evening — Stevens Pass invites adventure-lovers to night-ski with six lifts that stay open late. When a nightcap is calling, visit Pika Provisions (on Friday and Saturday evenings), where you can sip inventive craft cocktails in a soothing, speakeasy atmosphere.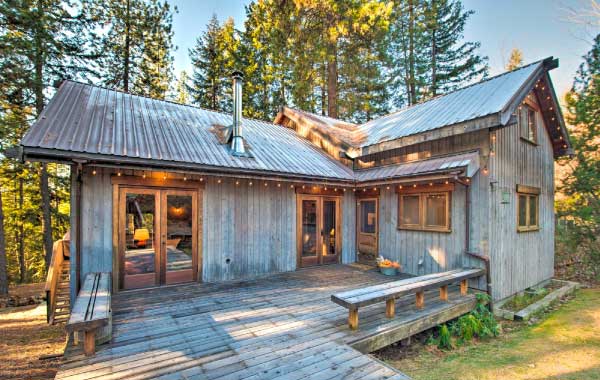 For an elegant night out at a slower pace, make a reservation at Mana, an intimate dining experience where eight courses tune to the season. Or, pick up homemade soup from Yodelin Broth and locally crafted to-go cider from Bushel & Bee, then rest easy in your Evolve vacation rental.
Where to Stay: Sleep nestled in the woods at this welcoming Leavenworth vacation rental cabin (pictured above) that comes with a fireplace and outdoor ambiance.
Want more of that European feeling that's closer to home? Check out our guide to the Best Places in the U.S. That Feel International right here — or take a journey into America's Best Small Towns for more winter vacation ideas.
Count on Perfect Escapes in 2022 with Evolve
Put exciting plans on the calendar and know that your stay will be everything you saw promised online. Our verified homes are backed by our Rest Easy Promise — meaning you'll always arrive at a clean, private place that's 100% ready for you.